Biggest Draft-Day Trades Involved Scottie Pippen, Kobe Bryant
Published on June 20th, 2023 1:55 pm EST
Written By:
Dave Manuel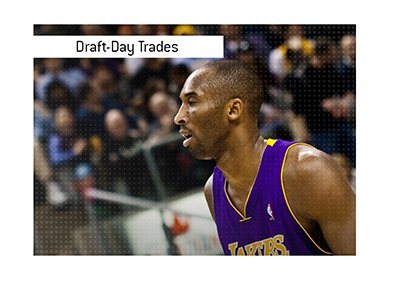 The NBA Draft has provided us with some of the biggest trades in the history of the NBA, involving some of the all-time great players.
Some teams look like absolute geniuses in retrospect, while others look downright foolish.
Let's take a look at the five biggest NBA Draft-Day trades of all time:
1.
Lakers Trade for Kobe.
The Los Angeles Lakers really wanted Kobe Bryant, though the Charlotte Hornets took Bryant with the 13th pick of the 1996 NBA Draft.
Bryant didn't want to play for Charlotte, and the Lakers really wanted him, so a deal with the Hornets was struck.
The Lakers sent Vlade Divac to Charlotte in return for Kobe Bryant, and the rest is history.
While this trade didn't technically take place on draft day, we are including it as Kobe never played a game with the Hornets.
2.
Bulls Trade for Scottie Pippen.
Scottie Pippen, one of the 50 greatest NBA players of all time, was a key piece to the six NBA titles that the Chicago Bulls won.
Pippen, however, was drafted by the Seattle Supersonics in the 1987 NBA Draft.
The Bulls managed to pry Pippen out of the hands of the Sonics, sending Olden Polynice and some picks for the future Hall of Famer.
An incredible deal.
3.
Celtics Trade for Parish and McHale.
Robert Parish and Kevin McHale were both key pieces of the Boston Celtics' dynasty of the 1980s, and Red Auerbach acquired both of them in a single trade.
At the 1980 Draft, Auerbach traded the 1st and 13th picks to Golden State for Robert Parish and the third overall selection, which the Celtics used on Kevin McHale.
The Celtics would soon roll out a team that included Larry Bird, Robert Parish and Kevin McHale, and the rest is history.
4.
Bill Russell Traded to Boston.
The Boston Celtics really wanted to draft Bill Russell at the 1956 NBA Draft, but St. Louis took him first.
The Celtics weren't to be stopped in their pursuit of Russell, so they traded Ed McCauley and Cliff Hagan to St. Louis for Russell.
Bill Russell developed into one of the greatest players in NBA history, leading the Celtics to 11 titles.
5.
Luka Doncic to the Dallas Mavericks.
A trade involving a sure-fire future Hall of Famer, and another potential Hall of Famer?
At the 2018 NBA Draft, the Dallas Mavericks traded Trae Young and a protected first round pick to the Atlanta Hawks for Luka Doncic.
Doncic is on track to be one of the greatest NBA players of all time when all is said and done, which is why this trade had to be included on this list.
Trae Young is a very good NBA player - Luka Doncic is generational.