NBA Abandoned Salary Cap Before Bringing it Back 40 Years Later
Published on January 31st, 2023 2:05 pm EST
Written By:
Dave Manuel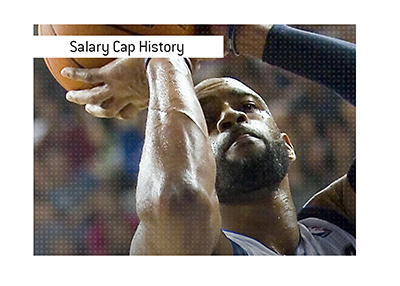 The NBA was founded in 1946 as the "BAA", which stood for the Basketball Association of America.
For the inaugural 1946-47 season, the BAA had a total of 11 teams, including the Toronto Huskies and New York Knickerbockers.
As with any new league, the owners had major concerns about their finances.
As a result, the BAA instituted a salary cap for the 1946-47 season.
The hard cap was $55,000 - per team.
-
$55,000 in 1946 dollars translates to roughly $825,437.18 in 2023 dollars.
This means that the hard cap for each of the 11 "BAA" teams for the 1946-47 season was less than a million dollars in 2023 dollars.
Compare this to the present day salary cap of $123.6 million/team, which also allows teams to spend far above that amount if they are willing to pay a luxury tax.
In the first season of the BAA (now known as the NBA), the average player made around $4,000-$5,000 per year.
The highest paid player in 1946-47 was Tom King of the Detroit Falcons, who made a total of $16,500. Certainly a decent salary, but King also worked for the team as publicity director and business manager.
The highest scoring player in the league that year, Joe Fulks, made $8,000.
-
Despite the hard salary cap in 1946-47, a number of the league's teams folded by the following season. Attendance numbers were low and the league had to share arenas with hockey teams, which made for tragically unsafe playing conditions (hardwood floors were usually just slid in over the existing ice surface).
The NBA wasn't the only basketball league in town at the time - they had to compete with other regional leagues.
As a result, the NBA decided to scrap their salary cap after just one season, so that their teams could sign the best basketball players in the country.
This was before the days of national TV deals, arena sponsorship money and corporate boxes, so deciding to scrap the salary cap was definitely a risky move that could have bankrupted the league.
-
The salary cap wouldn't return to the league until 1984-85, as worries over competitive balance in the league resulted in the institution of a salary cap.
Source: APBR.org -
Labor Pains Nothing New to the NBA