Emmitt Smith Rushed For 1,486 Yards in Just 14 Games in 1993
Published on July 13th, 2023 8:19 pm EST
Written By:
Dave Manuel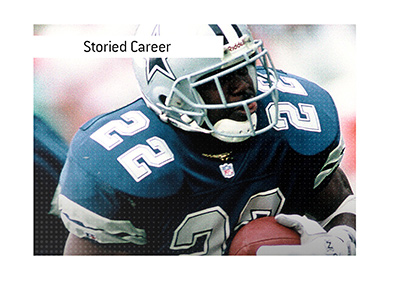 Heading into the 1993 season, Emmitt Smith just wanted to be paid.
And why not? In 1992, Emmitt Smith won the rushing title, running for a total of 1,713 yards while helping lead the Dallas Cowboys to a Super Bowl.
Emmitt Smith wanted to be paid, and he certainly deserved the money.
-
The problem? Emmitt Smith wanted to be paid like a quarterback instead of a running back.
The Dallas Cowboys didn't back down, and Smith ended up missing the first two games of the 1993 regular season.
Cowboys fans fidgeted as Smith, one of the best players in the game, stagnated on the sidelines.
The season was in danger of slipping away if Smith sat for too long, and the two sides finally came to a deal.
In the end, the Cowboys made Smith the highest paid running back in the NFL, as they gave him a 4-year, $13.5 million deal that including a $4 million signing bonus.
Both sides got to claim victory, as the Cowboys got Smith to back down from receiving "QB money", while Smith was made the highest paid running back in the NFL.
-
Despite missing the first two games and not being in "game shape", Smith came back to dominate the league once again.
In the end, Smith ended up rushing for 1,486 yards and 9 touchdowns in just 14 games.
Jerome Bettis finished just behind Smith with a total of 1,429 yards, though he played the full 16 game season.
It turns out that the contract was well-worth it for the Cowboys, as the team would win their second straight Super Bowl against the Buffalo Bills later in the year.
-
Emmitt Smith accomplished a number of incredible tasks over the course of his storied career, but winning the rushing title after missing two games to start the year might be near the top of the list.