Barboza vs Gaethje Fight Promises to Be Pure Violence
Published on March 28th, 2019 12:47 pm EST
Written By:
Dave Manuel
Click Here To Bet on Barboza vs Gaethje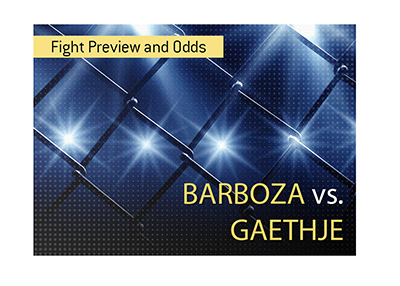 Violence. Pure, unadulterated violence.
If you were trying to come up with the most violent possible fight in the UFC, there is a good chance that you would land on Edson Barboza vs Justin Gaethje.
Edson Barboza is poetry in motion inside of the Octagon, as he has scored some of the most memorable knockouts in the history of the promotion. Barboza can knock you out with elbows, kicks or punches.
Justin Gaethje, on the other hand, likes to get into battles of attrition with his opponents. Over the course of any of his fights, Gaethje will absorb tremendous amounts of punishment, though he will just keep on coming. Usually Gaethje and his opponents end up completely exhausted by the end of the fight.
We all know that Gaethje will just keep coming and coming. The question - will Barboza be able to land that knockout shot before he starts to run out of gas?
Edson Barboza and Justin Gaethje are both coming off of wins, with Barboza knocking out Dan Hooker and Gaethje finishing James Vick in the first round. Gaethje perhaps saved his UFC tenure by knocking out Hooker, as he has lost his two fights prior.
-
Let's look at the odds for this fight, courtesy of Bet365:
Source: Bet365
Time Stamp:
March 28th, 2019 12:33 pm EST
Odds Subject to Change
Edson Barboza, 1.72
Justin Gaethje, 2.10
Will Fight Go The Distance?
Yes, 4.33
No, 1.20
Method of Victory
Barboza by KO, TKO or DQ, 2.00
Barboza by Decision, 8.00
Gaethje by KO, TKO or DQ, 2.55
Gaethje by Decision, 8.00
Draw, 67.00
-
Gaethje has a chin for the ages, though can he withstand the power shots of Barboza?
When it comes to Barboza, can he keep it coming if the fight starts to hit the deeper water of the third, fourth or even fifth rounds? We all know that Gaethje won't quit - how about Barboza?