Duane Thomas Was Upset Over His Contract and Refused To Speak To His Team
Published on July 17th, 2023 4:58 pm EST
Written By:
Dave Manuel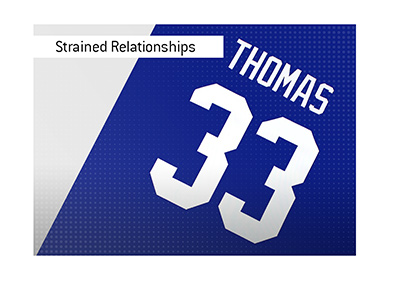 It was the summer of 1971, and Duane Thomas was furious.
So furious, in fact, that he vowed not to speak to his teammates, the media or the management of his team, the Dallas Cowboys.
-
Duane Thomas was the 23rd pick of the 1970 NFL Draft, and he immediately paid dividends for the Cowboys.
Despite starting just 8 games in his rookie season, Thomas ran for 803 yards and 5 touchdowns.
Thomas ran wild in the 1970 postseason, averaging over 100 yards per game while helping lead the Dallas Cowboys to a Super Bowl appearance.
Thomas was being compared to Jim Brown, and it seemed as though the Cowboys had themselves a superstar running back.
-
A few months later, Thomas would be on a different team.
After his exceptional first season with the Cowboys, Thomas wanted his deal to be rewritten.
The Cowboys refused, and Thomas went on an absolute tirade, calling Tom Landry "no man at all", Team President Tex Schramm "deceitful" and player personnel director Gil Brandt a "liar".
Thomas refused to report to training camp without a new deal, which led to him being traded to the New England Patriots.
-
End of the story for Duane Thomas and the Dallas Cowboys, right?
Wrong.
Thomas was still pissed off when he left for New England, and quickly got into skirmishes with the Patriots and their coach, John Mazur.
This led the Patriots to do something unprecedented - ask the league to void the trade.
NFL Commissioner Pete Rozelle partially voided the trade, sending Thomas back to the Cowboys.
Now Duane Thomas was REALLY disgruntled and the Cowboys had a player that was practically untradeable.
-
Thomas would end up reporting to the Cowboys, though he decided that he wouldn't speak to:
1. His teammates.
2. The media.
3. Team management.
Despite not talking to anybody, Thomas had a really, really good year in 1971. He would rush for 11 touchdowns and 793 yards in just 11 games, and he would be instrumental in leading the Cowboys to a Super Bowl victory.
Thomas was named All-Pro in 1971 and was a legit superstar.
Despite that, Thomas and the Cowboys never patched things up, and the sides grew even further apart after the Super Bowl victory.
The Cowboys finally decided that they had had enough, trading to the San Diego Chargers during the 1972 offseason.
-
The remainder of Thomas' NFL career was an absolute mess, and he would play in just a handful more games.
Thomas refused to report to the Chargers, was suspended and eventually waived.
Thomas would then sign with the Washington Redskins, where he would play for two seasons before asking for significantly more money. Thomas would be waived.
Thomas would bounce around for the remainder of his career with the WFL, CFL and NFL.
A comeback attempt with the Cowboys was cut short after he was waived before the season started, and in 1979, Thomas tried again, signing with the Green Bay Packers before being waived.
-
Despite having such a strong start to his career, Duane Thomas would finish his career with just 2,038 rushing yards.