DraftKings Sports Betting National Championship Gives Glimpse Into The Future of Sports Betting
Published on January 16th, 2019 1:41 am EST
Written By:
Dave Manuel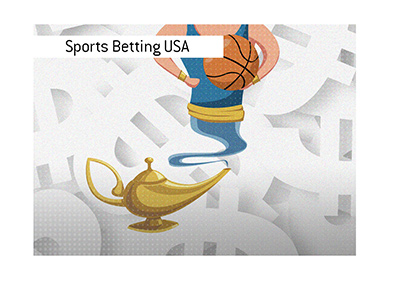 DraftKings held their first ever SBNC ("Sports Betting National Championship") in New Jersey this past weekend.
The contest, which cost $10,000 to buy into, was open to residents and visitors to the state of New Jersey, where sports betting was recently legalized. There was a guaranteed prize pool of $2.5 million.
The contest gave everyone a glimpse into the future of sports betting - a future where sports betting will be made into a competition that pits one player against potentially thousands of other players, instead of just a player versus the house (sports book).
Here is how it worked.
Players paid $10,000 to enter the contest. Of that total, $5,000 went towards the entry fee for the tournament, while the other $5,000 was used to establish a bankroll that would be used in the tournament.
Players had three days to earn as much money betting as they possibly could. They were free to bet on any sport that they wanted over the first two days of the event, while on the third day, they were only allowed to bet on the two NFL playoff games that were taking place.
The winner would be the person who was at the top of the leaderboard at the end of the event. First place received $1,000,000, the runner-up took home $350,000, and the third place finisher walked away with $250,000. In addition, players took home their closing bankrolls at the end of the event.
In addition to the leaderboard that was updated in real time, observers could see which bets each player had outstanding, so it made for a real sweat heading into the last day of play.
-
Making sports betting a competition is the future of the industry, though the SBNC was not without its controversy.
Since the Patriots/Chargers game ran long, some of the players with bets on that game were unable to wager on the Saints/Eagles game. This meant that the eventual third place finisher was locked out of betting on the Saints/Eagles game, which would cost him $650,000, as he would have won if he had been allowed to bet (he was going to bet his entire remaining bankroll on the Eagles/Saints game going under).
The problem was that DraftKings was unable to get the remaining Patriots/Chargers bets graded in time, which meant that the money wasn't available to wager.
-
There are certainly some kinks to work out in the system, though the prospect of combining sports betting with daily fantasy sports should be extremely exciting to fans of sports betting.
With more and more states bringing sports betting online, you can safely assume that DraftKings will be looking to bring sports betting contests to the masses in the near future.