The Story of Donald Trump's Two Attempts to Buy NFL Teams
Published on August 24th, 2022 2:36 pm EST
Written By:
Dave Manuel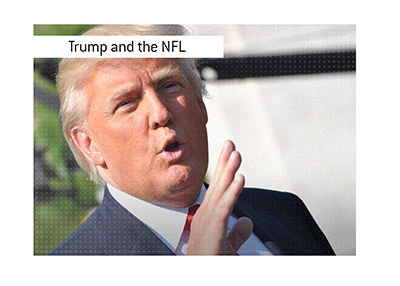 Donald Trump - NFL owner?
President Donald Trump tried not once, but twice, to buy a NFL franchise.
In his first attempt, Donald Trump tried to buy the New England Patriots in the 1980s.
In his second attempt, Trump tried to buy the Buffalo Bills.
-
In 1988, the New England Patriots were in very big trouble.
Foxboro Stadium had fallen into bankruptcy, and the owner of the team, Billy Sullivan, was struggling financially.
Sullivan had financed the Jackson Five "Victory Tour", which ended up losing a significant amount of money.
Sullivan was now in a precarious situation and had to sell the team.
Donald Trump was interested in purchasing the Patriots and had actually negotiated a purchase agreement with Sullivan.
NFL Commissioner Pete Rozelle, however, didn't want Trump owning a NFL team. This was due to Trump's involvement with the USFL and the lawsuit that the USFL had filed against the NFL.
Trump would pull out of negotiations after learning of Rozelle's stance against him.
Robert Kraft would buy Foxboro Stadium, as well as the lease that the Patriots had.
Kraft would use this leverage to eventually purchase the actual franchise in 1994, as he refused to allow the new owners of the team to break the lease and move.
-
In 2014, longtime Buffalo Bills owner Ralph Wilson passed away.
His estate hired Morgan Stanley to sell the team, and the final three bids came down to:
1. Donald Trump
2. Terry and Kim Pegula
3. Investor Group led by Jon Bon Jovi.
In the end, the Pegulas would win control of the team with a bid of $1.4 billion, which was a record at the time.
An article on Forbes.com
would put the amount of Trump's bid at somewhere around $850 million, which was obviously far short of the winning amount.
Trump's attempt to buy the Bills would resurface in 2019, when Trump's former lawyer, Michael Cohen, alleged that Trump inflated his net worth in an attempt to purchase the team.