Derrick Henry Absolutely Dominated High School Football
Published on May 25th, 2022 12:14 pm EST
Written By:
Dave Manuel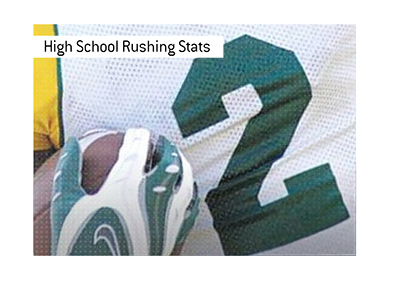 Derrick Henry is one of the best running backs in the NFL right now (if not the best), so it shouldn't be a surprise to learn that he ripped it up in high school.
Henry's high school stats, however, surpassed "excellent" and entered the realm of "ridiculous".
-
Derrick Henry played four years of high school football.
In that time, he suited up 48 times and compiled the following numbers:
1,397 Carries
12,124 yards
8.7 Average yards/rush
252.6 yards per game
153 rushing touchdowns
Henry's senior season in high school was particularly unbelievable, as he would rush for 4,261 yards in just 13 games.
That works out to an average
per game
of 327.8 yards.
On top of that, Henry rushed for 55 touchdowns in his senior season, which works out to more than 4 touchdowns per game.
As if that weren't enough, Henry also passed for a touchdowns in his senior season as well.
-
Here is a breakdown of Henry's rushing stats during his four years in high school:
Senior, 13 GP, 462 carries for 4,261 yards, 55 touchdowns
Junior, 12 GP, 309 carries for 2,610 yards, 34 touchdowns
Sophomore, 12 GP, 313 carries for 2,788 yards, 38 touchdowns
Freshman, 11 GP, 313 carries for 2,465 yards, 26 touchdowns
-
Here is a breakdown of Derrick Henry's statistics in his final year of high school:
August 30th
Gainesville
31 Carries for 336 Yards
3 Touchdowns
September 7th
Potter's House Christian
15 Carries for 242 Yards
4 Touchdowns
September 14th
South Lake
41 Carries for 303 Yards
5 Touchdowns
September 21st
Jackson
45 Carries for 510 Yards
6 Touchdowns
September 28th
Glades Day
35 Carries for 362 Yards
6 Touchdowns
October 5th
Fernandina Beach
16 Carries for 201 Yards
3 Touchdowns
October 12th
First Coast
35 Carries for 215 Yards
3 Touchdowns
October 19th
West Nassau
35 Cards for 455 Yards
5 Touchdowns
October 26th
Trinity Christian Academy
45 Carries for 242 Yards
3 Touchdowns
November 9th
Hamilton County
21 Carries for 404 Yards
6 Touchdowns
November 16th
Taylor County
57 Carries for 485 Yards
6 Touchdowns
November 23rd
East Gadsden
43 Carries for 189 Yards
1 Touchdown
November 30th
Bolles
43 Carries for 317 Yards
4 Touchdowns