Dallas Texans Lasted One Year Before Folding
Published on June 23rd, 2022 10:48 am EST
Written By:
Dave Manuel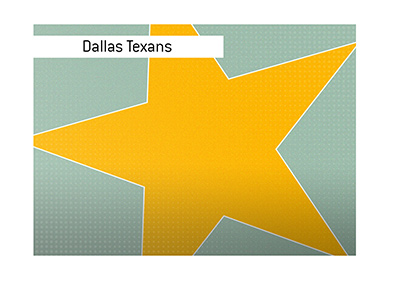 Given the popularity of the Dallas Cowboys, it's hard to imagine that a NFL franchise in Dallas actually folded after just one season on the league.
It's hard to imagine that a NFL team in football-crazy Texas would struggle to drum up interest.
It's hard to imagine that a team based out of Dallas would be forced to move IN THE MIDDLE of the season.
This is the story of the Dallas Texans, who lasted only 7 games before moving.
-
In January of 1952, two millionaire brothers - Giles and Connell Miller - bought the New York Yanks franchise from the league.
The deal would see the Yanks move to Dallas, where the team would be known as the Dallas Texans. The Texans would take the entire Yanks roster with them as well.
It seemed like a no-brainer - football was off-the-charts popular in Texas, and this would be the state's first major league sports franchise. The team would play in the 75,000 seat Cotton Bowl, and the team was backed by rich owners.
Instant success!
Or so they thought..
-
It turns out that people in Dallas liked good football, and not all football in general.
The Dallas Texans were really, really bad.
It was assumed that any professional football team would instantly draw fans, though the fans in the area wanted to see some good football, and they definitely didn't get it from the Texans.
The Texans would start the season 0-7, and none of the games were even close.
After losing 27-6 at home to the Los Angeles Rams, in a game that drew just 10,000 fans, the team essentially collapsed.
The millionaire owners, who had incurred losses of $250,000, were unable to make payroll, and the league bought the team back from the brothers. The team needed 25,000 home fans per game to break even, and they were well below that number.
-
The team remained the "Dallas Texans", though they would be a travelling team, playing home games in Akron, Ohio and Hershey, Pennsylvania.
As you can probably imagine, the attendance numbers were even worse for those games. Who'd want to watch a terrible team that still called themselves the "Dallas Texans"?
-
The league tried to find an owner for the Texans after the 1952 season ended, though they were unsuccessful.
Instead, the league awarded an expansion team to Baltimore and awarded it the assets that had belonged to the Texans.
-
The Texans would finish the 1952 season with a 1-11 record.
Professional football would depart Dallas until 1960, when the AFL and NFL both put franchises in the city. The NFL avoided the Dallas Cowboys franchise in 1960, and the rest is history.
The Houston expansion team, of course, would take over the Texans moniker.