Cristiane "Cyborg" Justino Big Favourite To Defeat Kunitskaya
Published on February 13th, 2018 12:23 pm EST
Written By:
Dave Manuel
Click Here To Bet on Cyborg vs Kunitskaya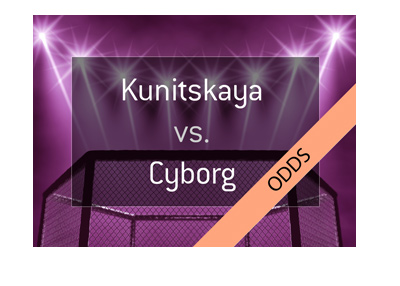 The "superfight" between "Cyborg" and Amanda Nunes may have to wait.
In their scramble to "save" UFC 222 after Max Holloway was forced to pull out due to an injury, the UFC made a Women's Featherweight title fight between "Cyborg" and Yana Kunitskaya. The UFC seems to be bound and determined to have a title fight headlining every single one of their numbered cards now, and Cyborg vs Kunitskaya is what we ended up getting.
In Cyborg vs Kunitskaya, you are getting another heavy, heavy mismatch and I'm surprised that the odds aren't even further apart from what they currently are. Here are the betting odds as of this moment:
Time Stamp:
February 13th, 2018 12:23 pm EST
Odds Subject to Change
"Cyborg", 2/7
Yana Kunitskaya, 7/1
In reality, Kunitskaya should be something more like a 20/1 underdog, as she has practically no chance against Cyborg.
Kunitskaya is yet another Bantamweight fighter that will be moving up to Featherweight to take on "Cyborg". The UFC has practically no true 145 pounders to face off against Cyborg, so they are forced to move women up from lower divisions. This is yet another case, and the results likely won't be good for Kunitskaya, who will be facing a massive size disadvantage. The UFC is likely going to give her a nice paycheck for taking the fight on short notice.
It should be noted that Kunitskaya lost to Tony Evinger, who was one of Cyborg's victims in the UFC.
-
Kunitskaya has some nice credentials, though the hilarious size mismatch will likely make this a squash match.
If the UFC wants to actually build up the Women's 145 pound division, they will need to sign some actual 145 pounders for the division.