Cyborg Big Favourite To Win Vacant Women's Featherweight Title
Published on July 23rd, 2017 6:56 pm EST
Written By:
Dave Manuel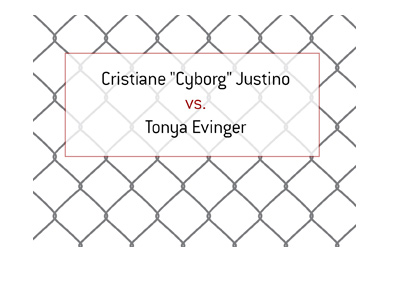 The Women's Featherweight division in the UFC was essentially created for Cristiane "Cyborg" Justino, and Saturday night she gets her chance to finally lay her hands on the title.
The Women's Featherweight title has taken some strange twists and turns since it came into existence.
The original plan was to have "Cyborg" fight in the very first Women's Featherweight title match, though she was unable to fight and the UFC pushed ahead with Holm vs GDR instead. De Randamie defeated Holm, seemingly setting up a fight between "Cyborg" and de Randamie.
GDR, however, had other plans, as she revealed that she would not fight "Cyborg" due to her past positive test for steroids. The UFC elected to strip GDR of the title, which resulted in GDR heading back to the Bantamweight division.
"Cyborg" vs Megan Anderson was made for UFC 214, with the winner being named the new Women's Featherweight title holder. Anderson pulled out of the fight and the UFC gave the spot to Tonya Evinger, the former Invicta FC Bantamweight champion.
-
Evinger is certainly a decent opponent for "Cyborg", though nobody really expects her to win, including the oddsmakers. Here are the current betting odds:
"Cyborg", 1.08
Tonya Evinger, 9.50
"Cyborg" will look to brutalize Evinger and end the fight early, similar to the other beatdowns that she has handed out since landing in the UFC.
Evinger, on the other hand, will look to survive the early onslaught and then neutralize "Cyborg" with her wrestling. This is obviously easier said than done, and Evinger will have a very hard time withstanding the first round pressure from "Cyborg".
This is a five round fight, so Evinger will need to push "Cyborg" into the championship rounds in order to have a chance of winning.
-
UFC 214 should be Cyborg's coronation ceremony (finally), though Evinger will certainly be looking to stand in her way.
After all of this build-up, will Cyborg finally fulfill her destiny of becoming the UFC's Women's Featherweight champion?