MLS Cup - Betting Odds, Event Details, History and Records
Date:
2023.12.09
Contest:
Soccer
Location:
TBD (Final match)
Click Here to Bet on MLS Cup
(Ad)

↑ Latest Odds Available Here ↑
The MLS Cup is the annual championship match of Major League Soccer (MLS), which is the top professional soccer league in the United States and Canada.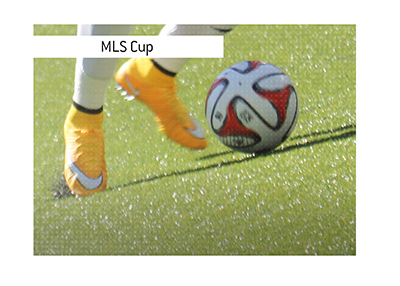 Major League Soccer began play in 1996, and the MLS Cup was established as the league's championship match from its first season.
2022 Winner:
LAFC beat Philadelphia in the MLS Cup final on penalties.
The score after 90 minutes was 2-2. In overtime, Philadelphia scored in last minutes of the match for 3-2, only for Gareth Bale to equalize in the 8th minute of extended time.
MLS Cup 2023 Betting Odds:
Source: Bet365
Time Stamp:
October 11th, 2023 6:13 pm EST
Odds Subject to Change
FC Cincinnati +333
LAFC +600
St. Louis City SC +800
Ornaldo City SC +1000
Columbus Crew +1100
Philadelphia Union +1100
New England Revolution +1200
Seattle Sounders FC +1600
Nashville SC +1800
Real Salt Lake +1800
Atlanta United +2500
Houston Dynamo +2500
Vancouver Whitecaps +2500
Portland Timbers +4000
...
Format:
Teams compete throughout the regular MLS season to qualify for the playoffs, which ultimately lead to the MLS Cup. The format of the playoffs and the number of teams that qualify have varied over the years as the league has expanded.
Unlike many other soccer leagues around the world, which determine the champion based on regular season standings, MLS uses a playoff system to decide its champion, culminating in the MLS Cup match. The venue for the MLS Cup was pre-determined (similar to the Super Bowl in American football) up until 2011. Since 2012, the team taking part in the final with the better regular-season record has earned the right to host the Cup.
The winner of the MLS Cup is widely recognized as the season's league champion. This is distinct from the team that finishes the regular season with the most points, which is awarded the Supporters' Shield. The MLS Cup winner also earns a spot in the CONCACAF Champions League, the premier club competition in North and Central America and the Caribbean.
Trophy:
The winner of the MLS Cup is awarded the Philip F. Anschutz Trophy, named after one of the league's founders and owners.
-
Since its inception, MLS has seen significant expansion. New franchises have been added, and the league has grown in terms of popularity, attendance, and overall quality.
-
View more
Sporting Contests