FIBA Basketball World Cup - Betting Odds, Event Details, History and Records
Date:
2027.08.27 - 2027.09.12
Contest:
BASKETBALL
Location:
Qatar
The FIBA Basketball World Cup is an international basketball championship event, featuring best national teams across continents. The event is organized by the International Basketball Federation (FIBA), the overarching authority in global basketball.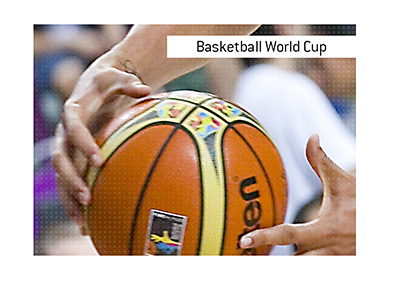 In 2023, the basketball world will turn its gaze to the Philippines, Japan and Indonesia, as they jointly host the World Cup from August 25 to September 10.
Current Champions:
Against the odds, Germany won the 2023 FIBA Basketball World Cup by beating Serbia in the tournament final. 83-77 was the score.
Canada was also on the podium after beating the USA in the game for 3rd place.
2023 Betting Odds:
Here is what the betting odds to win the tournament outright looked like 2 days prior to the event start:
Source: Bet365
Time Stamp:
August 23rd, 2023 3:21 pm EST
Odds Subject to Change
USA -125
France +800
Australia +900
Canada +1000
Spain +1200
Serbia +1200
Slovenia =1800
Germany +2500
Greece +3000
The United States of America team, featuring star players such as Anthony Edwards and Paolo Banchero, were the clear favourites to go all the way in the tournament and clinch their record 6th gold medal. Germany, who ended up winning the tournament, eliminated the USA in the semi-finals with the score of 113-111.
Tournament Structure:
Teams are initially segmented into eight distinct groups, each having four teams. The top two from every group move on.
This is followed by the formation of another set of four groups. From each group, the top two teams ascend to the quarter-finals. The subsequent stages - the quarter-finals, semi-finals, and the grand finale - will pave the way for the crowning of a world champion, a title they'll hold for four years.
History:
The men's competition traces its roots back to 1950, originally named as the FIBA World Championship. The women made their mark three years later, inaugurating their series in 1953. Since their inception, both these tournaments have recurred every four years, albeit not always in tandem.
Previous Winners:
As of now, the tally of gold medals is as follows:
United States: 5
Yugoslavia: 5
Soviet Union: 3
Brazil: 2
Spain: 2
-
The World Cup isn't just about claiming the world title. It's a significant gateway to the 2024 Summer Olympics. The best two teams from both the Americas and Europe, along with the foremost teams from Africa, Asia, and Oceania, will join the host nation, France, in the Olympic showdown.
-
View more
Sporting Contests