Being Fired With Cause Means The Team Is Not Going To Pay Out The Remainder of the Contract
Published on December 18th, 2021 12:32 pm EST
Written By:
Dave Manuel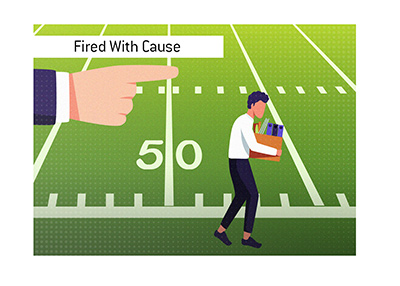 Earlier this week, the Jacksonville Jaguars ended Urban Meyer's disastrous tenure with the team, weeks before the end of the season.
Meyer's contract with the Jaguars was a lucrative one, as the team reportedly gave him a five-year deal that paid him between $10-$12 million per year.
Earlier today, it was revealed that the Jaguars fired Meyer "with cause".
Why is that important?
If a coach is fired "with cause", it means that the team believes that the coach was engaged in wrongdoing, broke some sort of a moral clause in the contract, etc.
In short - by firing Meyer "with cause", the Jaguars are looking to get out of paying Meyer the rest of his contract.
-
Coaching contracts, like player contracts, include broad language that allows the team to dismiss players or coaches that materially violate a part of the contract.
These contracts include general "morals" clauses, which allow teams to move on from coaches or players that have been involved in general wrong-doing. This can include domestic abuse allegations, drinking on the job, etc. etc.
With Meyer, the Jaguars would seem to have a number of different justifications for firing him "with cause". This includes the pictures taken of Meyer with a much younger lady at a bar, allegations that he kicked Josh Lambo, allegations of shouting matches with players and/or coaches, etc.
-
The question is - will Meyer look to move on from this situation and accept no more money from the Jaguars, or will he fight this move in court?
There is obviously a tremendous amount of money at stake, though Meyer might be anxious to just move on and return to the college ranks or retire.
If this does go to court, the Jaguars would seem to be in a much stronger position than Meyer, as his tenure was nothing short of disastrous.
-
In most cases, fired coaches will either receive the rest of their contracts (unless they are hired on with another team), or they will negotiate buyouts.
The Jaguars want to go a different route, and it appears as though they want to pay Meyer nothing more, or use the "for cause" firing to negotiate a much better buyout deal.