Mark Hunt Favourite To Win UFC 200 Co-Main Event
Published on July 2nd, 2016 2:37 pm EST
During their UFC 199 telecast, the UFC dropped a bombshell - Brock Lesnar would be returning from his "retirement" to fight on the UFC 200 card.
Lesnar, who was once the UFC's biggest star, has not fought since 2011, when he was soundly beaten by current Heavyweight title contender Alistair Overeem. Lesnar has said that the way that he went out of the UFC has long bothered him, as he was battling a severe illness (diverticulitis) at the time.
A few days after the UFC announced Lesnar's return to the Octagon, Brock went on ESPN and revealed that he would be fighting the hard-hitting Mark Hunt in the UFC 200 co-main event. One thing that can be said for Brock Lesnar - he is willing to take any fight that is presented to him.
Mark Hunt is very likely the hardest hitting fighter in the UFC, as he is the king of the walk-off KO. Brock Lesnar, as everybody knows, doesn't like to get hit in the face, which could make this a very short night for Brock, especially given his long layoff from the Octagon.
On the other hand, Lesnar is a fantastic wrestler and if he is able to get Hunt to the ground, he could definitely win the fight.
-
When the odds for Lesnar/Hunt were first released, Lesnar was a slight favourite to win.
That quickly changed, however, as the money soon piled it on Hunt. Here are the current odds as of this moment:
Brock Lesnar, +150
Mark Hunt, -170
So, according to these odds, a successful $170 wager on Hunt would yield a total profit of $100, while a successful $100 bet on Lesnar would return a total profit of $150.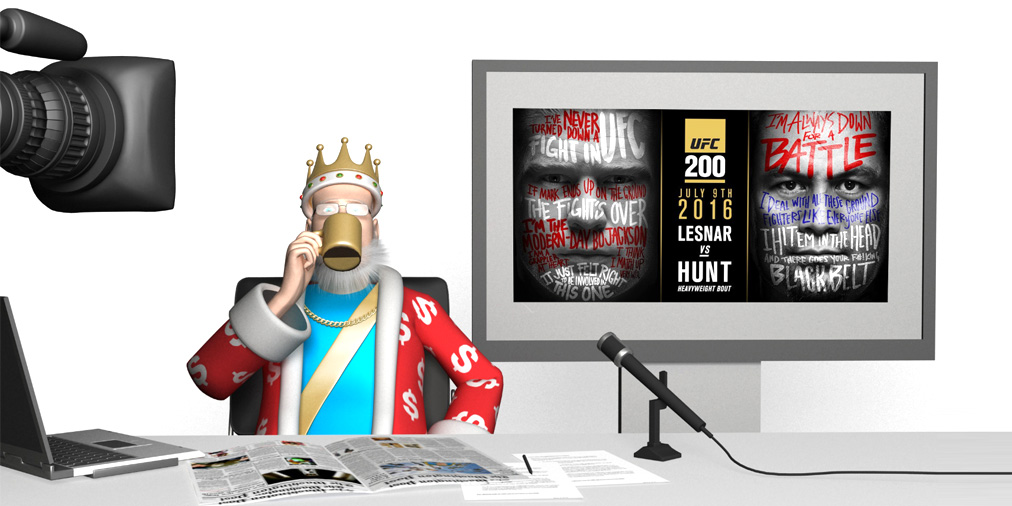 This match-up reminds a person of the very first fights in the UFC - what would happen if a hitting machine matched up against a top wrestler?
We'll find out in the co-main event of UFC 200, and I can't wait.