A Look Back at Brock's Brief NFL Experience
Published on November 24th, 2022 2:55 pm EST
Written By:
Dave Manuel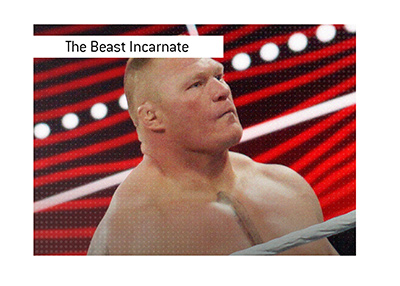 Brock Lesnar is undoubtedly a freak athlete.
Lesnar was a NCAA wrestling champion in college.
Lesnar won the UFC Heavyweight title in just his fourth professional fight.
In addition, Lesnar very nearly made a NFL team in 2004, despite not playing football in college.
-
In 2004, Lesnar decided that he was done with the WWE.
The constant travel was taking a toll on Lesnar, and he decided to switch his focus to the NFL.
After impressing at the 2004 combine (4.7 second 40 yard dash, 35 inch vertical jump, 30 225 pound reps on the bench press), the Vikings decided to give Lesnar a tryout.
Despite having zero experience playing football, Lesnar was good enough to play some preseason games for the Vikings.
Read that again - Lesnar was such a freakish athlete that he actually played in some NFL preseason games despite having NO football experience.
-
Now, you all know the story of Brock Lesnar, and how he won the UFC's Heavyweight title, fighting the likes of Frank Mir, Cain Velasquez and Alistair Overeem.
You also know that Lesnar would return to the WWE for multiple successful stints.
You can figure out that the NFL thing did not work out for Lesnar.
In fact, Lesnar was one of the Vikings' final cuts, and they offered him a chance to play for their NFL Europe team.
Lesnar thought of himself as a hired gun, looking to make as much money as possible from his incredible athletic prowess.
Instead of continuing to focus on a career in the NFL, Lesnar pivoted and decided to focus on fighting instead.
The move was obviously a smart one, with Lesnar making tens of millions of dollars in the UFC as one of the promotion's biggest stars.