Garrett Played Nine Games In the NFL
Published on April 22nd, 2022 2:02 pm EST
Written By:
Dave Manuel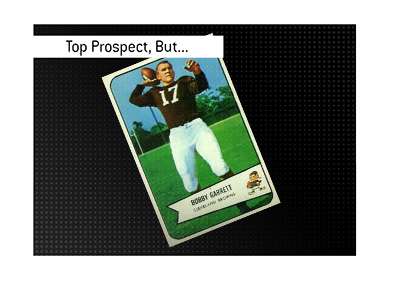 Bobby Garrett was a phenomenon in college.
Garrett not only played quarterback for Stanford, but also played defensive back, punted and kicked PATs as well.
In fact, in one game against UCLA, Garrett threw three touchdown passes, kicked three extra points, recovered a fumble and intercepted a pass.
Garrett was a supremely talented athlete, so it was no surprise when the Cleveland Browns selected his first overall in the 1954 draft. The Browns had plans to make Garrett their quarterback of the future.
-
The Browns signed Garrett to a record contract for a rookie, as he was to get $15,000 a year plus a $5,000 signing bonus.
At the time, this was a small fortune for a rookie.
-
Before Bobby Garrett even arrived in Cleveland, he was traded to the Green Bay Packers.
The "quarterback of the future" was gone, and most people agreed that the Green Bay Packers had gotten the better of the Browns in the deal.
What had happened? Why had the Browns given up on their QB of the future before he even arrived in camp?
-
There were two stories as to why the Browns dealt Garrett so quickly.
One story is that Garrett's military plans didn't line up with the Browns' plans for quarterback. They needed a QB now, and Garrett was planning on serving two years in the Air Force.
The other story is that Garrett stuttered so badly (he especially had trouble saying words that started with "s") that he couldn't get plays out in the huddle.
According to some of his former teammates, Garrett literally couldn't get plays out of his mouth in the huddle.
-
In his first year in Green Bay, Garrett served as the second-string quarterback, completed 15 of 30 passes for 0 touchdowns and 1 Interception.
After the 1954 season, Garrett served two years in the military. Cleveland re-acquired Garrett, though he would never play a game for the team before retiring in 1957.
In total, Garrett's NFL stats looked like this:
15-30
143 Passing Yards
0 Touchdowns
1 Interception
49.7 Passer Rating
-
The worst #1 overall pick ever? Garrett is tough to top.