The Story of Bo Jackson, Hugh Culverhouse and the Tampa Bay Buccaneers
Published on May 3rd, 2021 1:44 pm EST
Written By:
Dave Manuel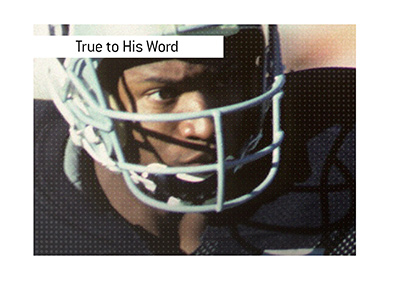 Did you know that the #1 overall pick in the 1986 NFL Draft refused to play for the team that drafted him?
Imagine, in this day and age, the #1 overall pick of the NFL Draft getting drafted and then refusing to play for the team that drafted him.
Sure, there have been instances of players forcing trades before they got drafted, but the #1 overall pick getting drafted and then refusing to play for the team that drafted him?
That's the story of Bo Jackson.
Bo Jackson, as you likely know, was a two-sport phenomenon.
In 1985, Bo Jackson was awarded the Heisman Trophy after rushing for 1,786 yards and 17 touchdowns with the Auburn Tigers.
In addition, Jackson was a talented baseball player. In his last full season with Auburn, Jackson batted .401 with 17 home runs in just 42 games.
-
Jackson's relationship with the Tampa Bay Buccaneers went south after the team sent out a private jet to pick up Jackson for a physical and a visit. At the time, Jackson was still playing collegiate baseball.
Jackson says that he believed that the visit was approved by the NCAA - this didn't turn out to be the case. The NCAA ultimately decided that the visit was against the rules and they forced Jackson to sit out the rest of his 1986 baseball season, which infuriated him.
Jackson believes that the Buccaneers and owner Hugh Culverhouse did this on purpose in order to force him to play football, and he vowed that he wouldn't play for the Buccaneers if they drafted him.
The Buccaneers tried to call Jackson's bluff, and ultimately ended up selecting him first overall in the 1986 NFL Draft.
Jackson, true to his word, refused to play with the Buccaneers, opting instead to focus on his professional baseball career.
The Buccaneers would ultimately forfeit the rights to Jackson.
This blunder set the Buccaneers back for years.
-
Jackson would ultimately get drafted for a second time in 1987, this time by the Los Angeles Raiders.
The Raiders made Jackson an offer that he couldn't refuse.
In addition to paying him a bunch of money, they also allowed Jackson to join the team once baseball season ended.
Jackson has said that he felt as though the Raiders organization respected him, and he ended up taking the deal.
Jackson would make his mark in just four short years before a hip injury ultimately derailed his NFL career.
-
Could you imagine a #1 overall pick refusing to play with the team that picked him in this day and age?