The Title Of Biggest Upset Belongs To Holly Holm vs Ronda Rousey
Published on December 14th, 2019 4:32 pm EST
Written By:
Dave Manuel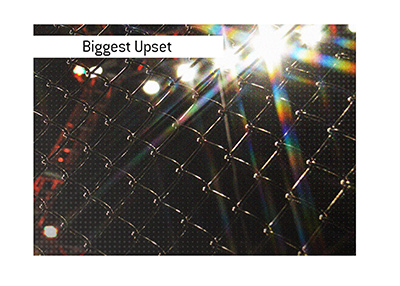 There have been some very big upsets in the history of the UFC.
Who can forget Matt Serra winning a Welterweight title eliminator in the Ultimate Fighter finale and then beating reigning champion Georges St. Pierre to win the Welterweight title? That was a massive upset, though based on the odds, this wasn't the biggest upset in the history of the UFC.
Who can forget Gabriel Gonzaga knocking out "Cro Cop"? Or Frankie Edgar beating BJ Penn for the first time? Or TJ Dillashaw defeating Renan Barao for the title? All major upsets, though none qualify as the biggest upset ever.
-
The title of "biggest upset in UFC history" still belongs to Ronda Rousey vs Holly Holm.
When UFC 193 in Melbourne, Australia rolled around, Ronda Rousey was easily the most dominant fighter that the UFC had ever seen.
After all, she had won her last FOUR title defences in a COMBINED time of 2 minutes, 10 seconds. That included wins over Bethe Correia, Cat Zingano, Alexis Davis and Sara McMann.
Holly Holm was seen as the next person up on the chopping block, and the odds for the fight certainly indicated that Holm had essentially no chance of winning.
When the betting for the Rousey/Holm fight closed, Rousey was a -1650 favourite at most sportsbooks.
This means that you would have had to have bet $1,650 on Rousey just to have a chance to win $100 in profit back. The implied odds of Rousey beating Holm were 94.34% - unheard of odds in a mixed martial arts fight, where anything can happen.
Nobody was expecting Holm to beat Ronda Rousey. In fact, there was talk at the time that Rousey would have been able to beat half of the Men's Bantamweight division, which is completely ridiculous in hindsight. This is how fast the Rousey hype train was rolling at the time.
-
Holly Holm is part of the Jackson-Wink fight team, which means that she had an excellent game plan heading into the fight.
That game plan was pretty simple - keep the fight standing and use your superior kickboxing to outstrike Rousey.
Rousey, surging with overconfidence, wanted to beat Holm at her own game - striking. This turned out to be a disastrous mistake, as Holm took Rousey apart over the course of 1 1/2 rounds.
The fight was so disastrous for Rousey, in fact, that she would only fight once more before retiring for good.
-
Given how much parity there is in the UFC now, we will likely have to wait a long time until we see an upset bigger than Rousey vs Holm.