Beto O'Rourke Odds to Win Presidency Surge Following Loss in Texas
Published on November 7th, 2018 12:11 pm EST
Written By:
Dave Manuel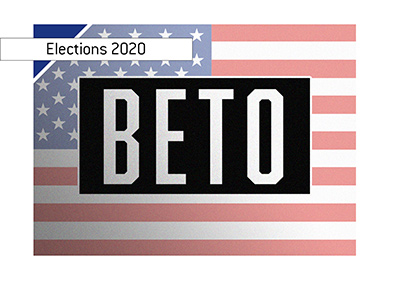 Beto O'Rourke nearly pulled off an upset win of Ted Cruz on Tuesday evening for Texas' senate seat. In the end, O'Rourke did much better than expected, pushing Cruz to the wire and collecting more than 4 million votes (48.3%).
O'Rourke's loss may end up being the Democrat party's gain in 2020, however, as he has emerged as one of the leading contenders for the party's nomination.
With the Democratic party regaining control of the House of Representatives on Tuesday night, the party will now look forward to the 2020 Presidential election. Democrats feel as though Beto O'Rourke is the perfect combination of optimism and charisma needed to defeat President Trump in 2020, though O'Rourke hasn't given any indication as to his plans as of yet. That being said, there is certainly a great deal of support for O'Rourke if he does decide to throw his hat into the ring.
-
Let's take a look at the current odds to win the 2020 US Presidential election as of this moment, courtesy of Bet365, a major European sports book. To nobody's surprise, the incumbent, President Trump, still has the best odds to win:
Source: Bet365
Time Stamp:
November 7th, 2018 12:10 pm EST
Odds Subject to Change
Donald Trump, 6/4
Kamala Harris, 15/2
Elizabeth Warren, 14/1
Beto O'Rourke, 12/1
Bernie Sanders, 20/1
Joe Biden, 16/1
Mike Pence, 20/1
-
While Kamala Harris still has the best odds to secure the Democratic nomination in 2020, Beto O'Rourke is surging.
With his very strong results in the Texas Senate race, many Democrats feel as though Beto O'Rourke is the candidate that can unseat President Trump in 2020.