Four Players Deserve To Top This List
Published on July 4th, 2021 3:15 pm EST
Written By:
Dave Manuel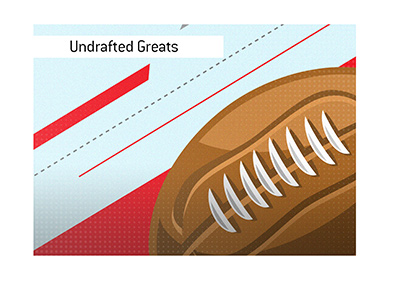 It's hard enough for a drafted player to make a NFL team, especially if they are drafted in the later rounds.
The landscape is littered with players who were drafted by NFL teams and never actually suited up for a regular season game.
To make a NFL team without being drafted is practically unheard of in this day and age, mainly due to the significant resources that teams devote to scouting and drafting.
As an undrafted player, you need to catch the eye of a NFL team, make a practice squad and then be good enough to make the actual team.
As we said, it's practically unheard of.
With that being said, there are some very, very notable players that went undrafted and ended up making significantly impacts for their teams.
Some of these players won Super Bowls. Multiple players received Pro Bowl nominations or All-Pro selections.
-
It's super tough to pick the BEST undrafted NFL player, so instead we are listing the top four, as it's tough to discern between #1-#4.
Many people would argue that Kurt Warner is the best undrafted player of all time. His list of accolades is long - Super Bowl champion, Super Bowl MVP, 2x NFL MVP, 4x Pro Bowl selections, 2x NFL passing leader.
Given his unbelievable story, many people would place the Hall of Famer at the top of the list, and it would be hard to argue this.
There are three more names, however, that I think warrant discussion. They are:
1) Dick "Night Train" Lane.
A fantastic DB with 68 career interceptions, 7 Pro Bowl nominations and three All-Pro selections.
"Night Train" is a Hall of Famer who graduated from Scottsbluff Junior College and went on to become one of the top DBs of all time.
2) Warren Moon.
A Hall of Famer who led the league in passing twice, and posted four 4,000 yard passing seasons.
Moon had a remarkable 17 year career and made the Pro Bowl nine times.
It's hard to leave Warren Moon off this list.
3) Emlen Tunnell.
If you have "Night Train" on this list, you also must include Tunnell.
Tunnell made the Pro Bowl nine times over the course of his 14 year career, and was an All-Pro selection four times.
Tunnell, who made the Hall of Fame in 1967, is second on the all-time interception list with 79 INTs.
-
For all of you undrafted players out there, hoping to make the NFL, there is still hope is you look at this list, as there were some all-time greats that went undrafted.