Cam Newton Likely Tops List of Strong Rookie Performances
Published on September 1st, 2021 6:21 pm EST
Written By:
Dave Manuel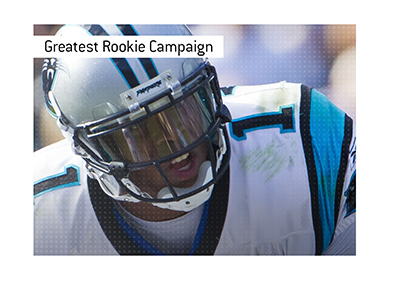 There have been some great performances by rookie quarterbacks over the years.
In most of these cases, the productivity matched the hype, as most of these quarterbacks were high draft picks.
Dan Marino turned in a very strong performance in 1983, as he turned in some very strong numbers over the nine games that he started.
Andrew Luck certainly lived up to the hype as well, as Luck was every bit as good as billed.
Matt Ryan, Jim Kelly and Russell Wilson also deserve mentions on the list as well.
-
The best rookie campaign by a quarterback in the history of the NFL, however, likely belongs to Cam Newton.
Newton, who was drafted #1 overall by the Carolina Panthers, obviously had some very lofty expectations heading into the 2011 regular season.
Newton would start all 16 games and quickly established himself as a great passer who had unbelievable mobility to boot.
While the Panthers would finish with a 6-10 record, Newton was a force, throwing for 4,051 yards and 21 touchdowns.
Newton was unstoppable on the ground, as he would rush for 706 yards and 14 touchdowns.
That meant that Cam Newton accounted for nearly 40 touchdowns in 2011, which is an eye-popping total.
-
Newton did throw for 17 interceptions in the 2011 season, though his stats were clearly good enough to win the Rookie of the Year award.
Cam Newton was truly an unstoppable force in 2011, as he turned in the greatest rookie campaign in the history of the NFL.