Amobi Okoye Remains Youngest Player To Ever Suit Up in NFL
Published on June 27th, 2022 11:19 pm EST
Written By:
Dave Manuel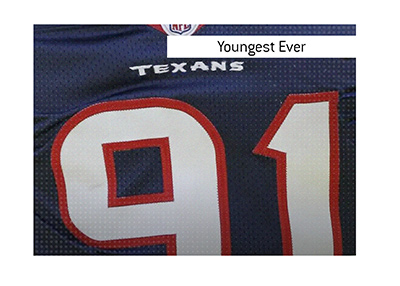 Since the start of the NFL, two players - just two - have suited up in the league while they were still teenagers.
Those two players - Danielle Hunter and Tremaine Edmunds - both played in the NFL when they were just 19 years of age.
Amobi Okoye is the youngest player to ever play in the NFL, and his record may never be broken.
-
Amobi Okoye, who was born in Anambra State, Nigeria, was smart.
Very, very smart.
After moving to Alabama at the age of 12, Okoye was inserted into the ninth grade after performing very well in his academic evaluations.
-
Okoye graduated from high school at the age of 15 and was faced with a choice - go to the University of Louisville where he could potentially pursue a career as a professional football player, or attend Harvard and focus on academics.
Okoye would choose the University of Louisville.
Okoye was playing college football at the age of 16 and played in all 13 games as a true freshman.
Okoye would finish his degree in 3 1/2 years and play four full years with the University of Louisville football program. Despite being just 19 years of age, Okoye was fully eligible for the NFL draft.
-
Okoye would be drafted in the first round of the 2007 NFL Draft by the Houston Texans.
Amobi Okoye would get off to a great start for the team, winning Defensive Rookie of the Month in his first month with the team.
Things would go sideways for Okoye after that, however, as he would bounce around from team to team before eventually finishing his career in the Canadian Football League.