New England Patriots, Minnesota Vikings Currently Favoured in AFC, NFC Respectively
Published on December 27th, 2017 6:40 am EST
Written By:
Dave Manuel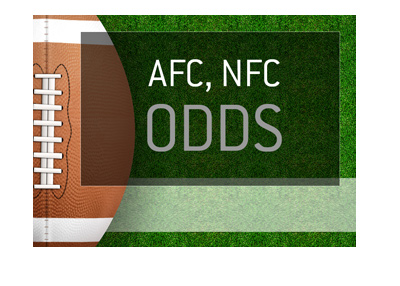 There is just one week left of regular season play in the 2017/18 NFL season.
At this point, some of the teams have more or less cemented their spots in the post-season, while others are desperately clinging to life.
There are some surprises this year (LA Rams, New Orleans Saints), while some of the old faithfuls (New England Patriots) are right where everyone expected them to be.
If the regular season started right now, the Patriots, Steelers, Eagles and Vikings would have the first round byes. The AFC Wild Card games would see the Titans play the Jaguars and the Ravens play the Chiefs, while the NFL Wild Card games would see the Falcons play the Rams and the Panthers play the Saints.
Home field advantage throughout the playoffs is a massive advantage, especially when you are travelling to cold places such as New England. If the Patriots finish with the #1 seed, any path to the Super Bowl in the AFC will likely need to go through New England.
-
Let's take a look at the AFC and NFC betting odds as of this moment, courtesy of Oddschecker.com:
AFC
New England Patriots, 4/5
Pittsburgh Steelers, 11/4
Jacksonville Jaguars, 8/1
Kansas City Chiefs, 17/2
Baltimore Ravens, 12/1
Los Angeles Chargers, 33/1
Tennessee Titans, 66/1
Buffalo Bills, 66/1
NFC
Minnesota Vikings, 9/4
Los Angeles Rams, 17/4
New Orleans Saints, 17/4
Philadelphia Eagles, 4/1
Carolina Panthers, 8/1
Atlanta Falcons, 9/1
Seattle Seahawks, 16/1
-
The Philadelphia Eagles likely saw their Super Bowl chances vanquished when Carson Wentz went down due to a season-ending knee injury. This left the Vikings as the team to beat in the NFC, especially if they can host the NFC Championship game.
The Los Angeles Rams are peaking at exactly the right time, and they are being led by Todd Gurley, who has been on an absolute tear and seems nearly impossible to stop.
The New England Patriots continue to play excellent football, led by Tom Brady, while the Pittsburgh Steelers are hoping that Antonio Brown is healthy by the time that the playoffs begin.
-
Who do you think will make it to the Super Bowl?