Adrian Peterson Only Running Back To Top $100 Million in Earnings
Published on July 16th, 2023 4:02 pm EST
Written By:
Dave Manuel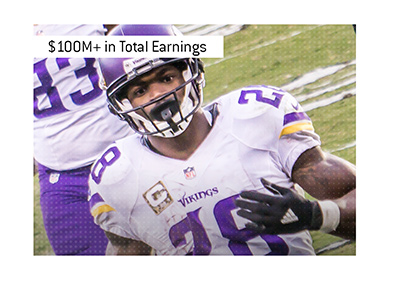 It's Adrian Peterson, a massive gap, and then everybody else.
Adrian Peterson, who is one of the greatest running backs in the history of the NFL, has a distinction that will likely take a long time to match - he is the only running back in the history of the NFL with over $100 million in total earnings.
Over the course of Peterson's 15-year career, he managed to amass $103,215,972 in total earnings.
Next up on the list? Ezekiel Elliott, with over $70 million in total lifetime earnings, followed by the likes of Edgerrin James, Frank Gore and Reggie Bush.
-
In July of 2007, Peterson signed his 5-year, $40.5 million rookie deal with the Vikings.
In 2011, after establishing himself as one of the premier backs in the league, Peterson cashed in with a 6-year, $86.28 million contract extension.
After these two monster contracts (one of which was restructured), Peterson also made money from deals with the likes of the Saints, Redskins and Cardinals, to name a few.
-
Adrian Peterson's earnings total as a running back is likely safe for a long while.
The running back has largely been devalued in today's NFL, as more teams are employing a QB-centric, passing heavy approach.
In addition, most teams are using a RBBC (Running Back by Committee) set-up, with an early downs back, a pass-catching/late downs back and a short yardage back.
Running backs are rarely taken in the first round of the draft anymore, which decreases the size of their rookie deals.
Running backs get pounded on a weekly basis, which makes them more suspectible to injury.
This makes teams less willing to ink backs to longer-term, expensive deals.
In this day and age, 28+ year-old running backs are often considered "old", which will make it difficult for any future running backs to top $100 million in earnings.
Inflation and a growing salary cap will eventually see a running back make over $100 million in total lifetime earnings, though it will likely be a while until that happens.