Wager Would Result In $73,750 Profit If Patriots Complete Perfect Season
Published on October 6th, 2019 10:11 pm EST
Written By:
Dave Manuel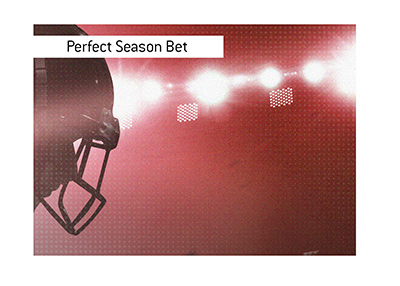 Can the New England Patriots run the table and go 16-0 this season?
According to one bettor at the SuperBook in Las Vegas, the answer is yes.
According to Darren Rovell of ActionNetwork.com (link below), one particularly optimistic bettor decided to plunk down $9,500 on the New England Patriots going 16-0 this season. This was before the Patriots' definitive 33-7 victory over the Washington Redskins in Week 5, pushing their record to 5-0.
The mystery bettor first put down $5,000 on the Patriots to go 16-0 at 8-1, and followed this up with an additional $4,500 at 8.5-1.
If the Patriots do manage to go 16-0 this season, this bettor will net a total profit of $73,750.
-
The Patriots have had a decidedly easy schedule so far that has included games against the woeful New York Jets, Miami Dolphins and Washington Redskins.
In addition, the Patriots also mauled the Steelers on opening night 33-3, while barely hanging on for a Week 4 win against the Buffalo Bills.
The Patriots should go 8-0 without too much concern, as they have home games against the Giants and Browns lined up, as well as an away game against the New York Jets. That should result in three wins.
The problem? The second half of the Patriots' schedule is extremely difficult, with games against:
Baltimore Ravens (on the road)
Philadelphia Eagles (on the road)
Dallas Cowboys (home)
Houston Texans (on the road)
Kansas City Chiefs (home)
Cincinnati Bengals (on the road)
Buffalo Bills (home)
Miami Dolphins (home)
There are five very difficult games for the Patriots in the second half of the season, and they will likely have a very hard time finishing out a perfect season.
Source: Action Network -
Rovell: One Bettor Has $180k Riding on Colts-Chiefs SNF Game