A Look at the 12 Players That Might Be On the Team
Published on October 23rd, 2023 6:18 pm EST
Written By:
Dave Manuel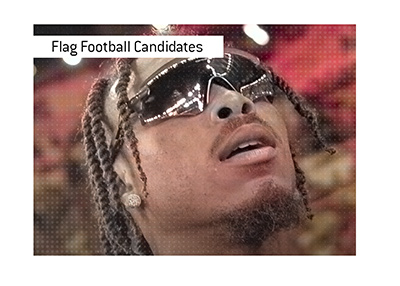 It appears as though flag football will be one of the five sports added to the Summer Olympics Games in 2028.
The 2028 Summer Olympics will be taking place in Los Angeles.
The chance to win a gold medal is enticing to any athlete, and upon learning of the news, word immediately started to make the rounds that NFL players were interested in playing for the team.
Micah Parsons, in fact, said that he was starting to assemble a team.
Later that week, the NFL came out and said that they would work with the NFLPA to allow NFL players to take part.
With the Summer Olympics taking place in Los Angeles in 2028, there would be no shortage of interest.
-
Flag football teams have a total of 12 players - usually six offensive specialists and six defensive specialists.
There are a total of 5 players allowed on the field for each time at any one time.
The small team size means that SPEED is the most important factor when it comes to constructing a team.
If you are looking to construct a team that features speed, Tyreek Hill is the first obvious choice, though he will be almost 35 years old in 2028, so there is a good chance that he won't play.
The team needs a quarterback, so the first obvious choice would be Patrick Mahomes, who will still be in his prime in 2028.
We can add three wide receivers to the mix that will be practically impossible for any team to defend against - Justin Jefferson, Ja'Marr Chase and CeeDee Lamb will all still be in their 20s when the 2028 Olympics take place, so they will be great choices.
We need a fast running back - Bijan Robinson and Breece Hall will both be in their mid 20s in 2028 still, so one of them would fit the bill. If we had to pick one, we'd take Breece Hall as he is slightly faster.
Lastly, on offense, the team could probably use a bigger tight end that will be able to get chunks of yardage when necessary - how about somebody like Sam LaPorta or Dalton Kincaid, who will both be in their 20s still when the Olympics roll around?
So, our offense would look something like this - Mahomes, Jefferson, Lamb, Chase, Hall and LaPorta/Kincaid.
-
There is no offensive line in flag football, so we don't need any imposing defensive linemen.
Instead, we need fast guys that can cover.
Give me Sauce Gardner, Patrick Surtain and Jaire Alexander to lock down the opposing wide receivers.
Now, we need some guys that can pressure the quarterback and stop the run. Why not add two of the best linebackers in the NFL - Micah Parsons and Fred Warner - to the mix? That would give us a starting defense of Sauce Gardner, Patrick Surtain, Jaire Alexander, Micah Parsons and Fred Warner.
Lastly, we'd need one more defensive player on the team, so why not a player like Nick Bosa or TJ Watt for the pure intimidation factor?
-
Sure, there will be newer players rising up over the next 4 years who will likely deserve a spot on this team, but for now, this would be an unbeatable 12 players to put out there.