Betting on 2019 Canadian Election
Published on July 29th, 2019 11:34 pm EST
Written By:
Dave Manuel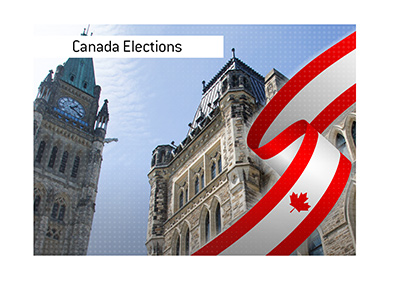 There are just a few months until the 2019 national election in Canada.
The election must take place before the end of October, 2019.
According to a major offshore bookmaker, the election is almost certainly a two-horse race: Justin Trudeau, leader of the Liberal Party, vs Andrew Scheer, leader of the Conservatives.
The NDP and Green parties, on the other hand, are seen as having little hope of winning.
-
Prime Minister Trudeau has had an up-and-down time during his term as Prime Minister. His time as leader of Canada started with a great deal of promise, though there have been a number of issues on which he has taken a hit, including pipelines and some turmoil within his own party.
Andrew Scheer, on the other hand, is hoping to capitalize on a turn to the right in Canada, as a number of provinces now have Conservative Premiers. Western Canada will largely back Scheer, though in order to win the election (and a majority, for that matter), Scheer will need to do well in both Ontario and Quebec.
-
Let's take a look at the current odds to be elected Canada's next Prime Minister:
Justin Trudeau, -120
Andrew Scheer, -110
Jagmeet Singh, +1200
Elizabeth May, +10000
Maxime Bernier, +50000
Yves-Francois Blanchet, +90000
So, according to these odds, Trudeau is a very slight favourite to win the election, though it is essentially a coin flip between himself and Scheer.
In order to win $100 in profit, you would need to wager $120 on Trudeau and $110 on Scheer. So, as it would require less money to make $100 on Scheer, he is considered to have a slightly worse chance than Trudeau of becoming the next Prime Minister.
Jagmeet Singh, Elizabeth May, Maxime Bernier and Yves-Francois Blanchet are all considered long shots to win.
-
While Trudeau will enjoy the incumbent's advantage, he will also be on the defensive in the debates.
The Canadian election in 2019 is shaping up to be very, very close - it won't at all resemble Trudeau's landslide victory in 2015.