Trade of Anthony Davis Has Shot Lakers To Top of Heap
Published on June 17th, 2019 4:10 am EST
Written By:
Dave Manuel
Click Here To Bet on 2019-20 NBA Futures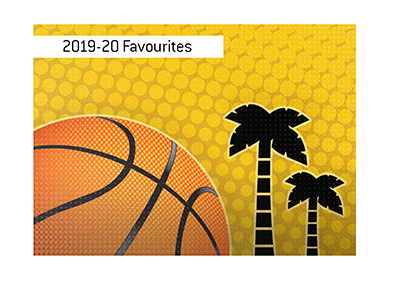 On Saturday afternoon, the Los Angeles Lakers and New Orleans Pelicans announced that they had completed a trade for Anthony Davis.
The Lakers had to give up a big haul to grab Davis (Lonzo Ball, Ingram, Hart, 3 first round draft picks, including the #4 pick in the upcoming NBA draft), though the return was also massive. Anthony Davis is a top 5 player in the league who is still only 26 years old - AD should be dominating for at least a decade to come, and he is almost certain to re-up in Los Angeles on a supermax contract.
The Lakers, who were in absolute shambles last year, are suddenly the favourites to win the 2019-20 NBA title following the trade. If the Lakers can add some shooting, they will be very tough to beat. There are rumors that Kyrie Irving, Kemba Walker or even Kawhi Leonard may end up as a third big piece in Los Angeles.
Helping the Lakers earn their favourite status for 2019-20 is the sudden implosion of the Golden State Warriors due to injury. Kevin Durant, should he re-sign with Golden State, will be out for the entire season with a torn Achilles tendon. That goes for Klay Thompson as well, who blew out his knee in Game 6 of the NBA finals.
This leaves a good, but not great, Golden State Warriors team that will be centered around Steph Curry and Draymond Green. Expect some pretty major regression from the Warriors next year.
The Milwaukee Bucks, who very nearly made it to the NBA finals, have the second best odds to win the NBA title in the 2019-20 season. They have arguable the league's best player in the Greek Freak, and they should only be better after a full year together. If Kawhi Leonard leaves for the West Coast, the Bucks should be practically unstoppable in the East.
Speaking of the Raptors, the defending champions have the third best odds to win the NBA title next season.
-
Let's take a look at the current betting odds as of this moment to win the 2019-20 NBA title:
Source: Bet365
Time Stamp:
June 17th, 4:11 am EST
Odds Subject to Change
Los Angeles Lakers, 3.60
Milwaukee Bucks, 7.50
Toronto Raptors, 8.00
Golden State Warriors, 10.00
Houston Rockets, 11.00
LA Clippers, 11.00
Philadelphia 76ers, 12.00
Boston Celtics, 16.00
Brooklyn Nets, 17.00
Denver Nuggets, 19.00
New York Knicks, 19.00
Oklahoma City Thunder, 26.00
Portland Trail Blazers, 31.00
Utah Jazz, 31.00
Dallas Mavericks, 41.00
San Antonio Spurs, 51.00
Indiana Pacers, 61.00
New Orleans Pelicans, 81.00
Chicago Bulls, 101.00
Sacramento Kings, 101.00
Orlando Magic, 101.00
Atlanta Hawks, 101.00
Washington Wizards, 101.00
Memphis Grizzlies, 201.00
Detroit Pistons, 301.00
Miami Heat, 301.00
Charlotte Hornets, 301.00
Cleveland Cavaliers, 301.00
Minnesota Timberwolves, 301.00
Phoenix Suns, 301.00
-
Now, tread carefully with some of these odds, as they make the assumption that certain moves are bound to happen. For instance - would you be confident betting on the Knicks at 19.00 to win? These odds clearly assume that the Knicks are going to land 1 or 2 big free agents, which is far from a given.
Keep that in mind while placing these wagers before the start of free agency, as things could quickly change.