1987 NFLPA Strike Remains Last Time That The NFL Season Lost Games Due to Work Stoppage
Published on November 4th, 2023 1:34 pm EST
Written By:
Dave Manuel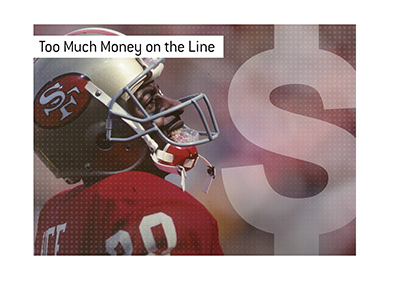 Imagine the chaos if the 1987 NFLPA strike took place in this day and age.
Cancelled games.
Replacement players.
Players crossing the picket lines to play.
The 1987 regular season was an absolute mess due to the 24-day strike that was called by the NFLPA.
The union called the strike after the 1982 CBA had expired, and the main point of contention was free agency.
The NFL had been very slow to welcome free agency (for obvious reasons), and the players weren't happy. At the time, teams received compensation if they lost a player to free agency, and players felt as though this limited their ability to move (it absolutely did).
So, as a result, the players went on strike.
-
The strike was called after Week 2 of the regular season, and all of the games in the third week were cancelled and never made up.
The owners weren't willing to miss Week 4, so they quickly assembled rosters full of replacement players that played in Weeks 4, 5 and 6.
A number of veteran players - including Joe Montana, Doug Flutie and Steve Largent - crossed the picket lines and elected to continue playing, which obviously infuriated the players that were on strike.
-
Attendance and TV viewership numbers obviously took a big hit, but it was the players who blinked first and not the owners.
The players stopped their strike before Week 6, though the owners said that replacement players would still be used that week.
The players elected to try their case in court instead, and there was no new CBA agreed to before the season resumed.
The players would ultimately prevail in their antitrust case against the league a few years ago, which would spur the two sides to finally settle and reach a new collective bargaining agreement, which resulted in much more lenient free agency rules, as well as a salary cap.
-
The damage to the league was tremendous, as the use of replacement players had made them a laughing stock, and many fans vowed never to watch the product again.
Most players ended up playing just 12 games in 1987, and this season ended up producing two of the greatest individual seasons in the history of the NFL - Jerry Rice's 22 touchdowns in 12 games, and Reggie White's 21 sacks in 12 games.
-
The players and the league learned lessons from 1987.
While there have been labor disputes between then and now, no regular season games have been lost due to labor issues.
The simple fact of the matter is that there is too much money on the line for both sides - nobody wants to kill the golden goose.