Liverpool vs. Tottenham - English Premier League - March 10, 2013 - Preview and Odds
Liverpool are hosts to Tottenham in the 29th round of the English Premier League on Sunday March 10th, 2013.
Liverpool are in seventh place and most recently they beat Wigan 0-4. Luis Suarez scored a hat-trick in that game which made him the highest scoring player in the Premier League with 21 goals. The win over Tottenham can keep Liverpool's hopes alive of reaching the Champions League next season.
Tottenham are red hot at the moment sitting in third place behind Man Utd and Man City. After beating Arsenal 2-1 last weekend they outplayed Inter Milan 3-0 in the Europa League round of 16. Gareth Bale is in form and has scored 16 times in the Premier League so far.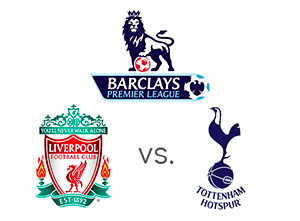 Liverpool are favourites to win at home vs. Tottenham. The odds are:
Liverpool 17/20
Draw 31/10
Tottenham 31/10
This means that a $100 bet on Liverpool if successful would earn $85 in profit while the same bet on Tottenham would earn $310.
Liverpool are scoring and stringing good results in the Premier League. In 2013 so far they played 8 games out of which they won 4, tied 2 and lost 2. Their goal balance is 22-8.
Tottenham are doing even better. Out of eight games in 2013 they won 5 and tied 3. Their goal balance is 13-7.
It is a little surprising to see Liverpool as big favourites in the upcoming match considering that Tottenham have not lost in their last 12 Premier League matches in addition to eliminating Lyon in the Europa League round of 32 and dominating Inter Milan in the first leg of round of 16.
Tottenham beat Liverpool earlier in the season at home with the score of 2-1.
Lets see how this plays out.