Beach Soccer World Cup - Betting Odds, Favourites, Event Details and Tournament History
Date:
2024.02.15 - 2024.02.25
Location:
Dubai, United Arab Emirates
The 2021 edition of the FIFA Beach Soccer World Cup is behind us. The host nation, Russia, won the tournament by beating Japan in the final with the score of 5-2. Switzerland finished in third place, while Senegal came in fourth.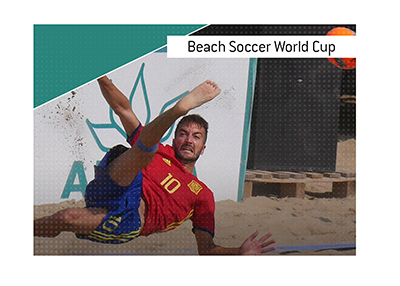 --
The very first FIFA Beach Soccer World Cup took place in 2005.
16 teams make the actual tournament after qualifying rounds.
The most successful team in the history of the tournament has been Brazil, who have won the tournament a total of five times.
The tournament usually last about 10 days, and involves a group stage, followed by a knockout round.
Once the qualifying rounds have concluded, odds should be available from the major sportsbooks.
-
Here is a complete list of the FIFA Beach Soccer World Cup to date:
2005, France
2006, Brazil
2007, Brazil
2008, Brazil
2009, Brazil
2011, Russia
2013, Russia
2015, Portugal
2017, Brazil
2019, Portugal
2021, Russia
The FIFA Beach Soccer World Cup was started as an annual event, though it now takes place every second year.
As you can see, Brazil had a tremendous run, winning the tournament for four straight years.
Russia, Portugal and Brazil have all won the tournament multiple times.