New England Patriots Favoured By 5 1/2 Points Over Philadelphia Eagles
Click Here To Bet on the Super Bowl
This year's Super Bowl will pit the New England Patriots against the Philadelphia Eagles.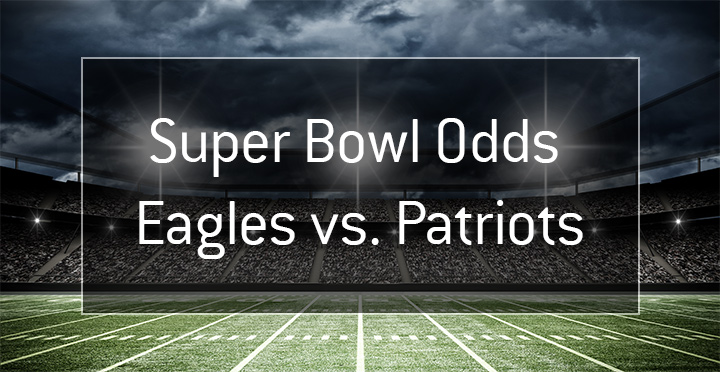 The Patriots managed to gain entry to the Super Bowl following a thrilling come-from-behind victory over the Jacksonville Jaguars, while the Eagles thrashed the Minnesota Vikings.
The Patriots, led by QB Tom Brady and coach Bill Belichick, will be looking for their sixth Super Bowl ring. The Eagles, without a number of key players including MVP-candidate QB Carson Wentz, will be looking for their first win of the modern NFL era.
Without a number of their best players, and squaring off against the New England Patriots, the Eagles are understandably the underdogs to win Super Bowl LII. Here are the current betting odds, courtesy of Bet365:
Source: Bet365
Time Stamp:
January 23rd, 2018 5:01 pm EST
Odds Subject to Change
Philadelphia Eagles, +5, 1.90
New England Patriots, -5, 1.90
Total
Over 48 points, 1.90
Under 48 points, 1.90
Money Line
Philadelphia Eagles, 2.85
New England Patriots, 1.44
-
It should be noted that the line has been 1/2 point in favour of the Eagles since the line was first released to the betting public.
-
The Philadelphia Eagles, despite finishing on top of the NFC with a record of 13-3, were the underdogs for both the NFC Divisional and Conference Championship games.
Things aren't going to change, as they will be underdogs once again against the Patriots.
If the Eagles end up winning the Super Bowl, they will have been underdogs in all three games, despite finishing as one of the league's best teams.
This phenomenon can be traced to the injury to QB Carson Wentz, who was on track to potentially win the MVP award before he went down with a season-ending knee injury. This hasn't slowed the Eagles, however, as they are about to play in the Super Bowl.
They will be squaring off against one of the greatest teams of all time, as the Patriots are looking to continue to cement their legacy as one of the league's greatest all-time teams.
Despite reports of dissension in the ranks a few weeks ago, the Patriots continue to find ways to win. The glue is Tom Brady, who has the talent to make all of the players around him look good.
The Patriots will be hoping for a healthy Gronk in the Super Bowl, as Gronkowski was forced to leave the game against the Jags due to injury.