2013/14 UEFA Champions League Group Stage - 22 out of 32 Teams Already Known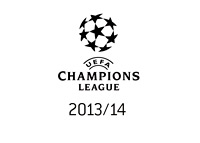 With most domestic league competitions finished for the season, lets take a look at the 22 teams that already qualified for the UEFA Champions League group stage 2013/14.
The UCL group stage features 32 teams. A number of top placing teams from big European leagues (England, Spain, Germany etc.) earn direct placement to the UCL group stage, while other high ranking teams still have to earn their spot trough one of the UCL qualifying rounds. The number of teams that qualify from each league varies according to the performance by the teams from the same league in European competitions over the last five years and is determined by the
UEFA country coefficients
.
Lets take a look at the 22 teams that earned direct placement to the 2013/14 UEFA Champions League group stage:
English Premier League:
Manchester United
Manchester City
Chelsea FC
Spanish La Liga:
Barcelona
Real Madrid
Atletico
German Bundesliga:
Bayern Munich
Borussia Dortmund
Bayer Leverkusen
Italian Serie-A:
Juventus
Napoli
French Ligue 1:
PSG
Marseille
Portuguese Liga:
FC Porto
Benfica
Russian Premier League:
CSKA Moscow or Zenit St Petersburg (league is still on)
Dutch Eredivisie:
Ajax
Ukrainian Premier League:
Shakhtar Donetsk
Greek Super League:
Olympiacos
Turkish Super Lig:
Galatasaray
Belgian Pro League:
Anderlecht
Danish Superliga:
FC Copenhagen
The 22 teams (21 + whoever wins in Russia) will be joined by 10 teams that qualify to the group stage through UEFA Champions League qualifying rounds.
Most of the teams from the list above participated in the group stage last year with the exception of Atletico Madrid, Bayer Leverkusen, Napoli, Marseille, FC Copenhagen and potentially CSKA Moscow.
The UEFA Champions League 2013/14 is slowly shaping up and it's actual start date can not come soon enough!