Real Madrid vs. Malaga - Round 35 of the Spanish La Liga - 08/05/2013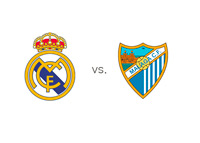 Real Madrid will host Malaga on Wednesday May 8th at Santiago Bernabeu and look to extend their unbeaten home record this season.
With four games to go and Real Madrid being in second place, eight points ahead of their city rivals Atletico, a win against Malaga could almost make it certain that Los Blancos finish as La Liga's second best team at season's end.
Malaga are in sixth place after 34 games and even if they qualify, the team will miss out on playing in Europe next season due to money issues that have to do with the UEFA's Financial Fair Play rules.
Both Real Madrid and Malaga are in the news lately for all the wrong reasons and both teams are facing an uncertain future when it comes to their star players and the coaching staff. Another thing Real and Malaga have in common this season is that they were both eliminated by Borussia Dortmund out of the UEFA Champions League, with both second leg matches being undecided until the very end.
All Real Madrid and Malaga probably want to do on Wednesday is get back to football and play an entertaining match for the fans.
Lets take a look at the odds for the upcoming game in Madrid:
Real Madrid 1/5
Draw 11/2
Malaga 11/1
Real Madrid are overwhelming favourites to win and a $100 bet on Los Blancos could earn $20 in profit if successful, while the same bet on Malaga has the potential to earn $1100 in profit.
Cristiano Ronaldo is the favourite to score for Real at 2/7 (bet $100 to profit $28) while Cesar Julio Baptista is the favourite to score for Malaga at 11/4 (bet $100 to profit $275).
Earlier in the season Malaga beat Real at home 3-2.
This should be an entertaining match!