Odds and Game Preview for Real Madrid vs. Atletico Madrid - Copa del Rey Final - 17/05/2013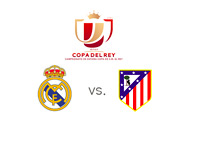 Real Madrid face their city rivals Atletico Madrid at Santiago Bernabeu on Friday, May 17th, 2013 in the Copa del Rey (Spanish Cup) finals.
Copa del Rey is the oldest Spanish football competition dating back to 1903. Real Madrid have won the contest 18 times and most recently they lifted the trophy in 2011 when they beat Barcelona in overtime 1-0. Atletico Madrid have won Copa del Rey 9 times and their last victory was in 1996. The upcoming match will be Atletico's fourth final since then.
On their way to the final, Real Madrid eliminated Alcoyano, Celta Vigo, Valencia and most recently Barcelona, while Atletico battled and won against Jaen, Getafe, Real Betis and Sevilla FC.
An interesting statistic is that Real Madrid have not been defeated by Atletico Madrid in the last 14 years across all competitions. Real Madrid beat Atletico twice this season in the league, 2-0 at home and 1-2 couple of weeks ago at Vicente Calderon Stadium.
So what are the odds of Atletico Madrid finally beating their neighbours?
Real Madrid 4/9
Draw 7/2
Atletico Madrid 11/2
As one would suspect, Real Madrid are big favourites to win again in what technically is a home game to them. A $100 bet placed on Real Madrid returns $44 in profit is successful, while the same bet on Atletico returns $550 in profit.
Cristiano Ronaldo is the favourite to score for Real at 2/5 (bet $100 to profit $40), while Radamel Falcao is the favourite to score for Atletico at 5/4 (bet $100 to profit $125).
Will Real Madrid continue their winning streak against Atletico on Friday, or is this the game where the smaller Madrid club finally beats the odds?
This should be an entertaining match!