Game Preview: Manchester City vs. Chelsea - English Premier League - Monday, 03/02/2014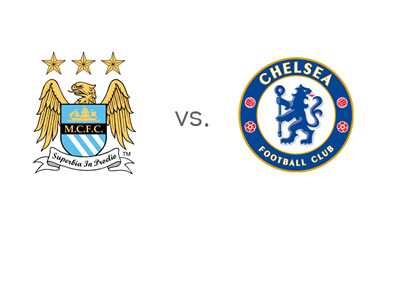 First place Manchester City host third place Chelsea in the twenty fourth round of the English Premier League on Monday, February 3rd, 2014 at the Etihad Stadium. This is one of those important and potentially epic, must see games!
Man City leapfrogged over Arsenal to first place in the last round of games. They are the favourites to stay on top for the rest of the season. They are pretty much running over their opponents week after week. Man City are undefeated in their last twelve league matches, out of which they won eleven. Most recently, they beat Tottenham in London with the score of 1-5. Man City are on fire, but they will have to do their most important battle of the season, without their star striker, Sergio Aguero, who is out due to a hamstring injury.
Chelsea are also in top form these days. They are undefeated in their last eight league games and they are the second favourites, according to the odds, to win the title. It is the general consensus that Chelsea are the only team that can stop the Man City train this season. Eden Hazard is the team's leading league scorer with nine goals so far. The midfielders, Oscar, Willian and Ramirez are putting in impressive performances as well.
Chelsea managed to beat City earlier in the season, at Stamford Bridge, with the score of 2-1. The highlight of that game was probably Jose Mourinho, running into the stands behind Manuel Pellegrini's bench at 2-1, to
high five his son
.
The odds for the upcoming game in Manchester are:
Man City: 17/20
Draw: 11/4
Chelsea: 7/2
Man City, who have not lost a league home game this season, are the favourites to win. A £100 bet on City could potentially earn £85 in profit. The same bet on Chelsea could potentially earn £350 in profit.
The most likely score, according to the odds, is a 1-1 draw, offered at 13/2.
Alvaro Negredo (1/1) and Edin Dzeko (13/10) are the favourites to score for City, while Samuel Eto'o is the favourite to score for Chelsea at 2/1.
This is going to be an awesome game!
The kick-off is at 8pm local time.
--
The two teams meet again on Feb 15th in the semis of the FA Cup.