Game Preview: Manchester City vs. Bayern Munich - UEFA Champions League - October 2nd, 2013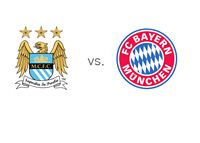 Manchester City are hosts to Bayern Munich in the second round of games in the UEFA Champions League (UCL) - Group, D at Etihad Stadium on Wednesday, October 2nd, 2013.
This is a huge game between two star-studded powerhouses of European football.
Manchester City are in questionable form so far this season, but they have showed up in full force for the big games. Anybody watching Man City pick apart their rivals Manchester United a week or so ago, will not question the potential of Manuel Pellegrini's squad. Man City also showed up big against Viktoria Plzen in the first round of UCL and won the match with the score of 0-3. Most recently, Manchester City lost to Aston Villa 3-2 in the English Premier League, where they are in sixth place after six games played with three wins, one draw and two losses.
After undisputedly dominating every tournament they played in last season, Bayern Munich are finding their new form under Pep Guardiola. Bayern are currently in second place in the German Bundesliga with six wins and one draw out of seven matches, and in the UCL they beat CSKA Moscow 3-0 in the first round. Most recently, in the domestic league, Bayern Munich beat VfL Wolfsburg 1-0 at home.
The odds for the upcoming game in Manchester are as follows:
Man City: 5/2
Draw: 12/5
Bayern Munich: 5/4
Bayern are the favourites. A 100 € bet the Bavarian team could yield 125 € in profit, while the same bet on Manchester City could produce 250 € in profit.
The most likely outcome in this game, according to the odds, is a 1-1 draw, offered at 5/1.
Mario Mandzukic is the favourite to score for Bayern at 11/10 (bet 100 € for a chance to profit 110 €) and Sergio Aguero is the favourite to score for Man City at 7/4 (bet 100 € for a chance to profit 175 €).
Manuel Pellegrini and Pep Guardiola know each other very well from the Spanish La Liga days, when they faced each other numerous times as coaches of Malaga and Barcelona.
A win vs. Bayern Munich would be quite a statement by Manchester City, who were eliminated out of the group stage early last season. The current UEFA Champions League champions, Bayern Munich, will be their biggest test of the season yet.
This could be a great game!