Game Preview: Manchester City vs. Manchester United - English Premier League - September 22nd, 2013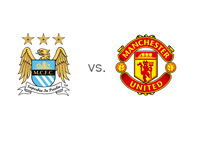 Manchester City will battle Manchester United in the fifth round of the English Premier League (EPL) at Ethiad Stadium in Manchester on Sunday, September 22nd, 2013. This is the biggest game in Euro football this weekend.
Man City and Man United have been the dominant forces in the EPL for the last few years. City won the title in 2011/12 and United won the title in 2012/13. The two sides have had a somewhat of a slow start to the season in the league and will be looking for points in the upcoming Manhester derby.
The odds are in favour of Manhcester City winning at their home stadium:
Man City: 6/5
Draw: 12/5
Man Utd: 13/5
A 100 € bet on the hosts could return 120 € in profit, while the same bet on Manchester United could bring in 260 € in profit.
The most likely scoreline, accordin to the odds, is a 1-1 draw, offered at 5/1.
Robin van Persie is the favourite to score for Man United at 11/8 (bet 100 € for a chance to win 137 €), while Alvaro Negredo and Sergio Aguero are the favourites to score for City at 6/4 each (bet 100 € for a chance to win 150 €).
Both teams are in good form and coming off mid-week UEFA Champions League victories. Manchester City demolished Viktoria Plzen (0-3), and Manchester United was the better team vs. Bayer Leverkusen (4-2).
In the English Premier League, both teams have 7 points from 4 matches, having won two, drawn one and lost one game.
Let's see how things play out in Manchester!