Latvia vs. Bosnia-Herzegovina - Group G - World Cup Qualifying - Odds and Preview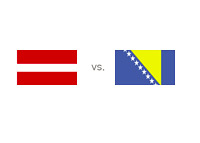 Latvia are hosts to Bosnia-Herzegovina on Friday June 7th, 2013 in the 6th round of the World Cup qualifiers in Group G.
After five matches played and with five matches to go in the group, Bosnia-Herzegovina are in first place with 13 points, 3 points ahead of 2nd place Greece and 5 points ahead of 3rd place Slovakia. Latvia are in 5th place with 4 points, 1 point behind Lithuania and 3 points ahead of last place Liechtenstein.
Bosnia-Herzegovina are in great form at the moment. They have won four games and tied one in Group G so far, scoring 18 goals and conceding 3. Most recently Bosnia-Herzegovina defeated Greece 3-1.
Latvia so far have one victory and one draw both against Liechtenstein and three losses to Greece, Bosnia-Herzegovina and Slovakia.
When the the two teams met last November in Zenica, Bosnia-Herzegovina came out on top with a 4-1 victory.
Lets take a look at the odds for the upcoming match in Riga:
Latvia: 9/2
Draw: 11/4
Bosnia-Herzegovina: 8/13
Boznia-Herzegovina are the favourites to win the match in Latvia. A $100 bet on the hosts to win could return $450 in profit, while the same bet on the guests could return $61 in profit.
The most likely outcome according to the odds is a 0-1 victory for the visitors offered at 11/2, followed by a 1-1 tie offered at 6/1.
Aleksandrs Cauna is likely to miss the upcoming match for Latvia due to injury, while Bosnia-Herzegovina will be without their co-captain Zvjezdan Misimovic.
This is a big match for Bosnia-Herzegovina as they look to finish first in the group and qualify to a major football tournament for the first time. If the last few games are any indication, the guests will play attacking football from the very start.
Latvia are not to be ruled out. They are more than capable of playing quality football and they will most likely give their guests a run for their money.
In the current FIFA rankings Bosnia-Herzegovina are in 21st place, while Latvia are in 110th place.
Lets see how this one plays out!