World Cup Qualifications - Europe - Round up - October 15th, 2013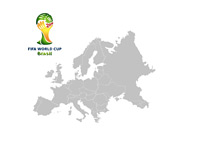 The group stage of the World Cup Qualifications is over. Nine teams have qualified for Brazil directly, while eight teams are heading to the playoffs to fight for four remaining European spots that lead to the 2014 World Cup.
The teams that have qualified directly by winning their groups:
Nethelands
Italy
Germany
Switzerland
Belgium
Spain
Russia
England
Bosnia-Herzegovina
Teams that are heading to the qualification playoffs:
Greece
Portugal
Croatia
Sweden
France
Ukraine
Romania
Iceland
The October FIFA/Coca-Cola World Rankings will be used to determine the four teams that will be seeded and will play their second matches at home. The update to the October rankings will be made on October 17th, 2013.
If we were to look at the September 2013 rankings, the following four teams would not be matched against one another in the playoffs and would play their second match at home:
Croatia
Portugal
Greece
Sweden
There are some mouth watering matchup prospects in the playoff round. France are in good shape at the moment. One of the four seeded teams will have to face Franck Ribery and Co.
The matches will be played on November 15th and November 19th of 2013.
The draw is on October 21st, 2013.
Should be good!