Eden Hazard - Talent x 17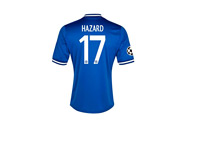 What a great player!
Eden Hazard continues to impress this season. He was outstanding vs. Galatasaray today.
His movement is from another planet.
The word is that he might win the UK Player of the Year award this season.
Here is a Youtube video, showcasing some of Eden Hazard's skills:
Please note that music might not be for everyone.
--
--
Arguably the best young player in the game!
Twenty three years old.
Amazing!
--
Video by:
Ariexc10