Bosnia and Herzegovina vs. United States - International Friendly - August 14th, 2013 - Game Preview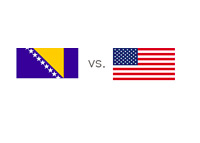 Bosnia-Herzegovina and United States meet for the first time in an international friendly. The match will be taking place at Olimpijski Stadion Asim Ferhatovic Hase in Sarajevo on Wednesday, August 14th, 2013.
United States, managed by Jurgen Klinsmann, are going for their 12th win in a row against in-form Bosnia-Herzegovina, who are undefeated in their last nine matches.
Bosnia-Herzegovina, managed by Safet Susic, are currently ranked as the 13th best football nation in the world, according to the FIFA rankings; USA, on the other hand, are now in 19th place.
The USA national team will feature six members from the CONCACAF Gold Cup winning team: Bedoya, Diskerud, Corona, Castillo, E. Johnson and Parkhurst. Well known stars Client Dempsey and Landon Donovan were not called up for this match.
The Bosnia-Herzegovina squad is in full force for Wednesday's friendly and it will feature internationally known players Edin Dzeko (Manchester City), Miralem Pjanic (AS Roma) and Asmir Begovic (Stoke City).
The odds for the upcoming game in Sarajevo are as follows:
Bosnia-Herzegovina: 1/1
Draw: 23/10
USA: 14/5
Bosnia-Herzegovina are the favourites to win. A $100 bet on the hosts could return $100 in profit, while the same bet on the USA could return $280 in profit.
Both teams are looking to continue their winning momentum, while at the same time tuning things up for the upcoming World Cup qualification games.
Bosnia-Herzegovina face Slovakia next on September 6th, while USA travel to Costa Rica that same day.
This should be a good match!
The kick-off is at 8.30pm.