Best Matches Across Europe Between Monday, Oct 28th and Sunday, Nov 3rd, 2013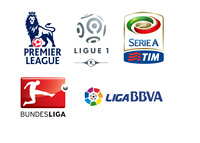 Here are the most interesting matchups around Europe in the upcoming week:
Tuesday, October 29th
Arsenal vs. Chelsea - Capital One Cup
Wednesday, October 30th
Real Madrid vs. Sevilla - La Liga
Fiorentina vs. Napoli - Serie A
Saturday, November 2nd
Arsenal vs. Liverpool - EPL
AC Milan vs. Fiorentina - Serie A
Spartak Moscow vs. Lokomotiv Moscow - RPL
Sunday, November 3rd
Everton vs. Tottenham - EPL
Lille vs. AS Monaco - Ligue 1
Arsenal vs. Chelsea in the English League Cup on Tuesday should be a good game to start the new week. Arsenal vs. Liverpool league match on Saturday should be even better.
The UEFA Champions League is back on November 5th and 6th.
Enjoy the games!