bwin App - Bet on Sports from your iPhone or Android Mobile Phone
Published on September 1st, 2011
Click Here to Qualify for a £200 Bonus at Bet365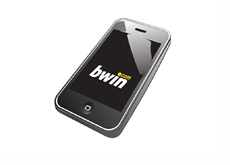 One of the "limitations" of online gambling in our mobile world is that we have few options beyond our personal computers. The exception to this is the no-download client, which lets you play anywhere with minimal fuss.
The bwin Mobile Sports Betting Solution
Bwin, which is UK-based and one of the largest and most successful sportsbooks online, is now taking the freedom and convenience of the no-download client a step further by bringing it to your mobile phone in the form of an app.
The bwin app installs once lightning fast, and then all you have to do is configure/create an account. Once finished, you have comprehensive access to your bwin account wherever you have mobile Internet access or Wi-Fi.
How Mobile Sports Betting with bwin Works
Bwin Live is available for both iPhone and Android platforms, and for each of these platforms, bwin also offers a poker app and some casino apps, such as blackjack, kick'n'spin, roulette, Yucatan gold and more.
With Bwin Live, the focus is on live sports. Once you've logged in, you have up-close access to all the games, just as you do on the main site, and can place live bets on football, American football and any of bwin's other markets.
How to Get Started with Bwin Live
Android:
• Bwin Live requires Android 2.1 or greater.
• Open a mobile browser.
• Navigate to wap.bwin.com/liveapp.
• Tap the 'download' button.
iPhone:
• Open the iPhone browser.
• Navigate to www.bwin.com/sportsapp.
• Click 'download.' (iPhone app store opens)
• Click 'install.'