Where To Bet on Anthony Joshua vs Andy Ruiz Jr.
On June 1st, 2019, Anthony Joshua will be looking to successfully defend his plethora of titles against Andy Ruiz Jr. at Madison Square Garden in New York, New York.
This fight is a very big deal, as it will be his first fight in the United States, where he is hoping to become a star. In addition, Joshua is facing a couple of very lucrative fights if he can get past Andy Ruiz Jr. - one against Deontay Wilder and another against Tyson Fury, both of which would stand to line his pockets considerably.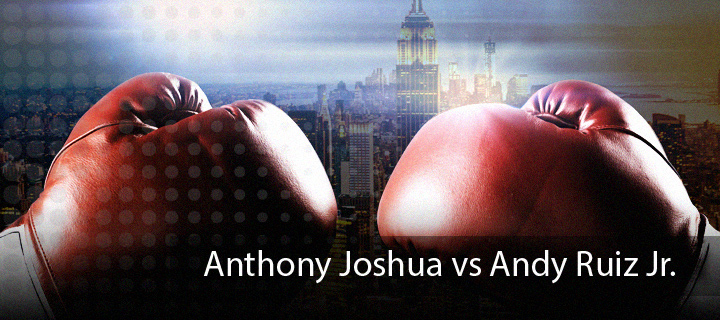 Joshua will need to maintain his focus against Ruiz Jr., however, and not looking past his opponent.
Joshua enters this fight with a perfect 22-0-0 record, including wins against the likes of Alexander Povetkin, Wladimir Klitschko and Eric Molina. All but one of Joshua's victories have come via knockout.
It's not surprising to learn that Joshua is considered to be the clear #1 Heavyweight in the world, though strong challenges from both Wilder and Fury loom on the horizon.
In Ruiz Jr., Joshua gets a tough but very beatable opponent that has a record of 32-1-0, with 21 of his victories coming via knockout. Having said that, Ruiz Jr. has not faced anybody even close to Joshua in his time as a professional fighter.
Ruiz Jr. is currently considered to be the #14 ranked Heavyweight fighter in the world.
-
As you can imagine, Joshua is a massive favourite to win this fight.
Let's take a look at the current betting odds, courtesy of Bet365:
Source: Bet365
Time Stamp:
May 26th, 2019 6:06 pm EST
Odds Subject to Change
Anthony Joshua, 1.03
Andy Ruiz Jr., 13.00
Fight Outcome (5-Way)
Joshua by KO, TKO or DQ, 1.22
Joshua by Decision or Technical Decision, 4.50
Ruiz Jr. by KO, TKO or DQ, 29.00
Ruiz Jr. by Decision or Technical Decision, 21.00
Draw or Technical Draw, 34.00
Over/Under Rounds
Over 5.5 Rounds, 1.83
Under 5.5 Rounds, 1.83
Will Fight Go The Distance?
Yes, 4.33
No, 1.20
-
This fight is nothing more than a tune-up fight for Joshua, who is looking to book some big money fights later in 2019 and into 2020.