Grand National 2023 Betting Odds
Click Here To Bet on Grand National 2023!
(Ad)
The 2023 edition of the Grand National will take place on 15.04.2023 at Aintree.
This will be a particularly special edition of the race, as it will be the 175th time that it has been run.
This year's event will be sponsored by Randox Health, with Natasha Jonas acting as the ambassador.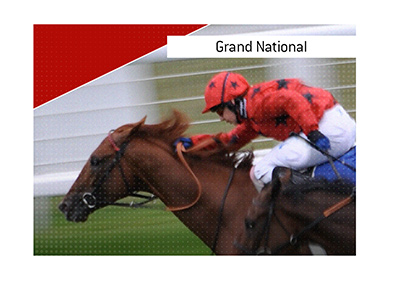 The Grand National is one of the most popular horse races in the world, as it is watched by hundreds of millions of people, many of which are located in the United Kingdom.
The race is just under 7 kilometres and is in the steeplechase format. It's an elite field, as the horses must be 7 years old or older, rated 125 or higher by BHA and previously placed in a recognized chase of a distance of at least approximately 4 kilometres.
The prize pool is quite large, as in 2022, the total pool was 1 million pounds, with the winner walking away with half of that.
The race is held at Aintree Racecourse in Liverpool, England, and has been run since 1839.
There is a tremendous amount of history tied to the event, which is why it is so popular.
Horses must jump a total of 30 fences over the course of the race, which makes for some riveting viewing.
The defending champion in the race is Noble Yeats, who won in 2022.
-
Noble Yeats is the clear favourite to win again in 2023, which makes sense as this horse is the defending champion.
Here is a current list of all of the odds for the race, courtesy of Bet365:
Source: Bet365
Time Stamp:
December 21st, 2022 1:17 pm EST
Odds Subject to Change
Noble Yeats, 11.00
Hewick, 17.00
Delta Work, 21.00
Any Second Now, 21.00
Corach Rambler, 21.00
The Big Dog, 21.00
Ashtown Lad, 21.00
Longhouse Poet, 26.00
Gericault Roque, 26.00
Stattler, 26.00
Gaillard Du Mesnil, 26.00
Lifetime Ambition, 26.00
Le Milos, 26.00
Eldorado Allen, 26.00
Minella Times, 34.00
Iwilldoit, 34.00
Mac Tottie, 34.00
Happygolucky, 34.00
Galvin, 34.00
Kemboy, 34.00
Eklat De Rire, 34.00
Escaria Ten, 34.00
Gesskille, 34.00
Ahoy Senor, 34.00
Kitty's Light, 41.00
Run Wild Fred, 41.00
Threeunderthrufive, 41.00
Jungle Boogie, 41.00
Ain't That A Shame, 41.00
Paint the Dream, 41.00
Our Power, 41.00
Slipway, 41.00
Gin on Lime, 41.00
The Big Breakaway, 41.00
Cape Gentleman, 41.00
Quick Wave, 41.00
Fiddleontheroof, 51.00
Enjoy D'allen, 51.00
Sam Brown, 51.00
Secret Reprieve, 51.00
The Galloping Bear, 51.00
Frontal Assault, 51.00
Autumn Evening, 51.00
Ontheropes, 51.00
Lord Accord, 51.00
Sounds Russian, 51.00
Max Flamingo, 51.00
Percussion, 51.00
Dingo Dollar, 51.00
Fortescue, 67.00
Franco De Port, 67.00
Early Doors, 67.00
Musical Slave, 67.00
Farclas, 67.00
Battleoverdoyen, 67.00
Gabbys Cross, 67.00
Mister Coffey, 67.00
Vanillier, 67.00
Annsam, 67.00
Recite a Prayer, 67.00
Eva's Oskar, 67.00
Lord Lariat, 81.00
Dusart, 81.00
Fighter Allen, 81.00
Coko Beach, 101.00
Commodore, 101.00
Snow Leopardess, 101.00
Screaming Colours, 101.00
Roi Mage, 101.00
Velvet Elvis, 101.00
Hill Sixteen, 101.00
Death Duty, 101.00
The Wolf, 101.00
Houston Texas, 101.00
Captain Kangaroo, 101.00
Jimmy The Digger, 101.00
Aye Right, 101.00
De Rasher Counter, 101.00
Easysland, 101.00
Foxy Jacks, 101.00
Captain Tom Cat, 126.00
Freewheelin Dylan, 151.00
Captain Cattistock, 151.00
Five Star Getaway, 151.00
Event Details:
Venue: Aintree
Date: 15.04.2023
View more
Sporting Contests