Free £25 Bet Bonus at Betfair
Steps To Qualify for Free £25 Bet Bonus:
Note: You must do
BOTH
of these steps to qualify!
1.
Click This Link
(Betfair.com)
2. Enter KING25 when prompted for a Promo Code/Referral Code
That's it! You will now be qualified for the free £25 bet bonus, provided that you have not previously signed up to Betfair, and provided that you follow the terms and conditions of the offer.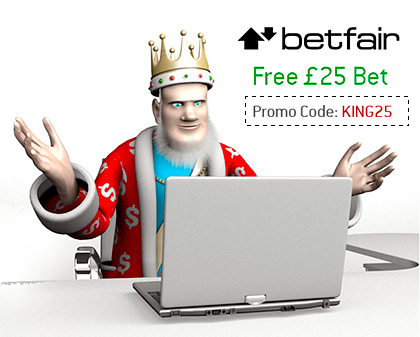 Betfair.com, which operates the world's largest online betting exchange, is currently one of the largest and most respected online gaming companies in the world.
The company, which was founded back in 2000, claims to have more than 4 million customers spread out over 100+ different countries throughout the world.
In addition, the company has over 1,800 employees and is listed on the London Stock Exchange (symbol: BET). Being listed on the London Stock Exchange, in my opinion, is a very big positive for any company, as they are forced to file audited statements and conform to certain standards.
--
Betfair offers a tremendous number of gaming options under just one roof.
Let's start with sports - Betfair offers odds on practically every sport that is currently being played in the world, from boxing to bowling to football (that includes American football) to golf to mixed martial arts to cricket.
Betfair offers "in-play betting", which allows to you bet on games WHILE THEY ARE IN PROGRESS. So, let's say that your favourite English Premier League team goes down 1-0 early in a game. The "in-play" odds will adjust, meaning that you will be able to bet on your team to win, adjusted for the fact that they are down 1-0 in the game (meaning that you will be getting much better odds if they end up winning). That is "in-play" betting.
In addition to sports betting, Betfair also offers:
-casino games
-poker
-bingo
-"live casino" games, where live dealers actually deal for you in front of a camera
--
With Betfair, you are never going to be away from the action, as the company offers their sports betting action through an application that you can download to your favourite mobile device.
Get into the action at Betfair today by following the instructions provided above.